MaryJanice Davidson Talks Undead And Underwater - And Vampires!
Tue, 03/05/2013 - 12:13pm — admin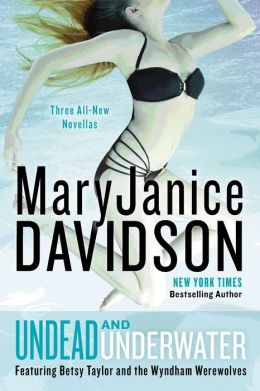 Fans of MaryJanice Davidson are already familiar with the author's assortment of paranormal characters. From Betsy the Vampire Queen, in the author's Undead series, to Fred the mystery-solving mermaid — and let's not forget those Wyndham Werewolves — Davidson's paranormal romances are filled with lighthearted, humorous fun and plenty of supernatural creatures. Davidson's latest, Undead and Underwater, features three all-new novellas featuring the author's signature characters — including Betsy and Fred's first-ever meeting! Today the author stops by the RT site to tell us about her new collection and to dish on a very important topic — shoes!
***

You are a pretty prolific writer. To start with, what's one of your favorite characters that you've written?
Betsy the Vampire Queen has to go on that list. She's a lot like me: tall, snarky, not redeemed by love, hardly ever learns from mistakes, socially annoying, fantastically immature, heavily dependant on friends and family for reality checks... (Wow. There is a lot wrong with me. Her, I mean.) I like the idea of an ordinary woman essentially waking up with tons of power. She turns 30, gets fired and killed on the same day, and nothing is the same after that. She goes from ordinary to super-human literally overnight, and the books (twelve in the Undead series so far) are about how she deals with such dramatic change, conquers evil, updates her shoe collection...all of life's necessities. Like I mentioned above, I love taking an ordinary woman and plunging her into all sorts of absurd situations. It doesn't hurt that the king of the vampires is crazy about her...and crazy sexy, too!
In Undead and Underwater, Fred and Betsy meet for the first time, and discover their clashing personalities. Fred can't stand Betsy's obsession with fashion and shoes. What about you, been shopping at Manolo Blahnik lately?
Not once! I'm a DSW (Designer Shoe Warehouse) kind of girl, when I'm not a Target girl. Unlike Betsy, my undead heart doesn't half-heartedly thump once every ten minutes for designer shoes. I've happily worn ten dollar sneakers from Target. I refuse to drop $500 on something I will eventually walk through dog shit in (our son is somewhat lax about his yard-cleaning responsibilities). What's amazing and cool is, shoe designers actually send me shoes! Apparently several of my readers read about designer Beverly Feldman in the Undead series and became loyal customers of hers as well. She started getting fan mail from some of my readers who had never been interested in designer shoes before, who then checked out her stuff and became loyal customers. The ungodly talented and generous Ms. Feldman thanked me by sending me a dozen pairs from her new line. For nothing. Because that's just a small sliver of what great lives writers have.
What's Betsy Taylor's favorite pair of shoes?
Gah! Like making her choose between her eighty-seven children! Ironically, Betsy's favorite shoes are hers no longer. She sacrificed them to summon the Devil. And the Devil, of course, appeared; she couldn't help herself. Betsy sacrificed Italian-made Valentino black lace couture mid-heel peep-toe pumps, for which she worked overtime for three years. They cost almost a thousand dollars and they went with everything. Everything.  
There's a lot of vampire fiction out there. What do you feel makes your vampires unique?
The fact that they're huge pains in the ass? No? Fair enough. I think they're unique because they buck conventions. Betsy wouldn't be caught dead in a coffin, no pun intended. She doesn't skulk in dark alleys bemoaning her bad luck at being eternally beautiful. The first thing she did when she returned from the grave (after walking around on the bottom of the Mississippi River in a futile attempt to drown herself) was tell her mom she was (relatively) okay. Betsy needs people in her life, even as she complains about them. She also had an uneventful life prior to dying the first time, and I like that she's an office assistant. It seemed to me that in most paranormal fiction the vampires were always rich 800 year-old English lords and the like. I always wondered where the plumber vampires were, the flight attendant vamps. The vamps who drove a UPS truck in life.
So … have you ever met a real vampire?
Uh, seriously? Is that a real question? Because of course not. I mean...come on! Of course not. Nor have I suffered a Nessie sighting or spotted Sasquatch. Because those aren't real. Kind of like vampires. Um...have you? Because if you have, that's a serious problem. You should probably talk to someone about that.
We've never seen a real vampire — we swear! But we will be seeing some supernatural creatures in our imaginations when we grab our copies of MaryJanice Davidson's newest release. Undead and Underwater is available in stores and online now. And for more genre news and coverage, visit our Everything Paranormal & Urban Fantasy Page!