Matchmaker, Matchmaker, Win Me A Match.com Subscription: Celebrating Laura Lee Guhrke's When the Marquess Met His Match
Wed, 10/30/2013 - 3:05pm — admin
Listen, we know. Dating is hard. It's not like you're in a romance novel, where when you trip walking across the street, a dashing billionaire swoops in to save you from certain death. No, you generally notice in time and then get splashed by a passing bus. 
And it's not like you're a Victorian miss, who has the help of Laura Lee Guhrke's matchmaking heroine, Lady Belinda Featherstone, to shepherd you through the hazardous dating world. After all, Belinda has seen it all, and she's certainly not going to fall for a rogue in When the Marquess Met His Match — right?!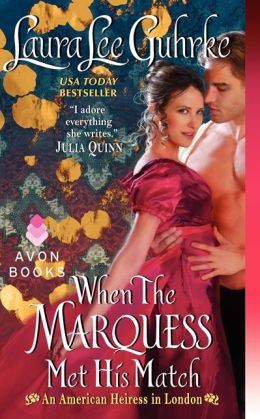 But sans a helpful billionaire or a Victorian matchmaker, today we've got the next best thing: a chance to win a three-month subscription to Match.com! If you've ever wanted to try online dating, why not comment below telling us what a guy shouldn't do on a first date for a chance to win? And don't worry, if you're happily attached — or a resident of somewhere other than the U.S. or Canada, where the Match.com subscription is valid — we'll be happy to award the winner a $50 gift card to the book e-tailer of their choice. You can also e-mail your entry here, with the subject "Match.com Giveaway" and your mailing address, for a chance to win. A winner will be announced a week from today.
In the meantime, why not pick up a copy of When the Marquess Met His Match, which is available in stores and online now! And for more love stories, both contemporary and historical, visit our Everything Romance page.