Maureen Johnson Releases The Madness Underneath With A Special Event - With Giveaway!
Wed, 02/27/2013 - 1:38pm — admin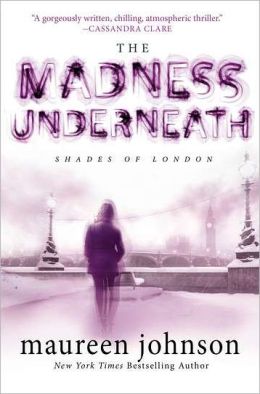 Last night Watchung Booksellers, Montclair, New Jersey's premiere independent bookstore, hosted a terrific event with Young Adult superstar Maureen Johnson. The author celebrated the release for The Madness Underneath, the second in her Shades of London series, with local readers. During a Q&A, Johnson answered questions about heroine Rory, who is transplanted from small town Louisiana to finish high school in London. This is a huge transition for Rory, but nothing can compare to the shock she receives when she starts to see ghosts. But, just like there are all kinds of people, there are also all types of ghosts — from rockers from the 1980s to deceased ladies from the 1880s. But the ghosts that really stand out are the malevolent spirits turned serial killers. Johnson explained to the crowd that she purposefully created ghosts that do something, because hauntings without real danger just doesn't cut it. After her talk, Johnson signed books for her fans and answered some of my questions about her Shades of London series. 
Morgan Doremus: In the series starter, The Name of the Star, Rory's life in London begins normally — she makes friends with her new roommate and has a cute crush — but then some Jack the Ripper style murders start occurring literally at her boarding school's back door. Not only that, but cameras show the murderer is invisible. This is a lot for a teen to take in.
Maureen Johnson: I really thought about the psychological fallout of this situation and in the second book I spend a lot of time focusing on that. It's always a problem when you write any fantasy book because the character will get this amazing revelation, let's say, "my boyfriend is a vampire". Then that character has a choice — then can spend the next 300 pages rocking in the corner...
MD: I imagine that if I could see ghosts like Rory, I would cry a lot ... 
MJ: That's always an option. But I decided to let Rory get on with her life in some way. In books, you have to get on with it. But in The Madness Underneath readers will see that there has been damage to her psychologically. She makes bad decisions, she thinks her life is broken and everything is wrong, but then she makes the choice not to be depressed about it. 
MD: At the end of the first book, Rory discovers that she has a pretty amazing ability. She can extinguish a ghost's energy by just touching it. A ghost terminus. 
MJ: Yes, she can terminate the vestigial energy that makes up ghosts. I really wanted to have an explanation for this and I spent a ridiculous amount of time writing how all of this stuff could actually work. I was obsessed with it. I had really hard-core science people working on the problem and they kind of put together this string theory explanation. As exactly how Rory functions, that is going to come up a lot in the third book. The reality of what is going on.
MD: For the first story, you did a lot of research on Jack the Ripper because his life becomes a big part of the story. It is weird that out of all the historical figures he is one that everyone — young and old — remembers. What's with his popularity? 
MJ: Jack the Ripper was really the first media star. Newspapers reports followed every detail of the attacks and this was the first time this had ever happened. He got lots of attention, but in reality, he was just some guy. He wasn't terribly clever.
MD: His ghost is going to be so mad that you said that!
MJ: I know, his ghost is going to be annoyed. But the truth is we don't know much about him at all. But the media built him up because they realized that scary stories sell. 
MD: Speaking of scary, in The Madness Underneath, there is a baddie that "communicates" with a hammer. That is a pretty nasty way to kill someone.
MJ: Yes. Very naughty. When I wrote this, I was thinking about Hammer Films in the UK which made horror movies and playwright Joe Orton who was killed by a hammer. That's got to be the worst way ever to die. Awful. But it is also practical. What other weapon are you going to easily have on hand? It's not like you are grabbing a chainsaw out of nowhere. 
Author Maureen Johnson explaining her fascination with London's ghosts
MD: You are pretty well known for your cliffhangers. 
MJ: I know! It's fun.
MD: So you like torturing us? 
MJ: Absolutely. It happens a lot in TV shows and I love that. Although it is always easier when you have another episode in another week or so. Homeland does this a lot. I love MI5 — that show just kills characters, they don't care. In my book, I stop where the story ends. And the next will start from there. I want each book will end on a kind of boom. I refer to it as The Empire Strikes Back ending.
MD: What non-spoilery things can you tell us about book three in the series?
MJ: The title is The Shadow Cabinet. 
MD: Do murders take place in the cabinet?
MJ: No, but they could. It is a very spooky cabinet. I haven't finished writing it, but I know what happens in it. And also in the fourth book which I have started writing because some of the story overlaps. 
Fans wearing Johnson's "Stare" tee shirts
MD: You have published 12 books, won tons of awards and hold excellent events like this one, yet your Twitter stream says on release day, you still do a little booty shake for your newest book. Will it ever get old?
MJ: No, I don't think so. I mean, I'm kind of lame. On release days I don't sit around with champagne or grab a peacock and walk the streets in my helicopter. I'm more likely to go out for ice cream to celebrate. And then go to bed early.
MD: Ahh, the simple pleasures.
Maureen Johnson: Exactly. I like to hang out in my pajamas a lot. So any job that lets me do that makes me happy. 
Do you want to sit around in your pajamas reading Maureen Johnson's Shades of London series? Here is your chance. One lucky winner will receive a signed copy of both The Name of the Star and The Madness Underneath. All you have to do is comment letting us know if you believe in ghosts. You can also email us your answer, along with your mailing address and the subject "Maureen johnson Giveaway." The winner will be announced Wednesday, March 6. U.S. addresses only please. And for more teen books, make sure to stop by our Everything Young Adult Page.
BLOG UPDATE: The winner is Ashley Debilzen.