Maya Rodale Shares A Wallflower Moment + An Excerpt From The Wicked Wallflower
Wed, 10/23/2013 - 10:43am — admin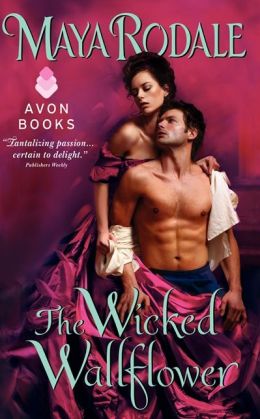 Maya Rodale's latest release, The Wicked Wallflower, features heroine Lady Emma Avery, who attempts to climb the social ladder by announcing her engagement to a desirable duke, the Duke of Ashbrooke, whom she's never even met! We've been there — minus the duke part. But we can't blame a gal for trying to fit in. Today Maya shares another "Wallflower Moment" from her story.

***
That Wallflower Moment … when the mean girl makes fun of you.
Mean Girls was such a great movie — but isn't it just The Worst when the Mean Girl decides to pick on you? Unfortunately, my heroine in The Wicked Wallflower frequently encounters Lady Katherine Abernathy, the queen of the mean girls in 1820s London. This story does have a happily ever after: Emma ultimately lands the gorgeous duke of Ashbrooke who Lady Katherine had been crushing on — although he didn't pay much attention to lady Emma at first (as we'll see in on the third stop in The Wallflower Moments Blog Tour). And here's where Emma is bestowed with a rather unfortunate nickname in The Wicked Wallflower at a ball during their first season:
"Oh, hello!" Lady Katherine called out to them. The three tensed, for she had never, in the history of their acquaintance, had a kind word for either of them.
"My friends from Lady Penelope's Finishing School," she explained to her swarming pack of beaux. First she introduced Lady Olivia and Miss Prudence. Then Lady Katherine paused to smile wickedly. "And Lady Emma. But we all called her the Buxom Bluestocking."
The gentlemen, desperate to please or perhaps mistaking this cruelty for wit or humor, burst into uproarious laughter. Emma felt her cheeks flame red. She had actually prayed for Katherine to drop that horrid nickname. And this was how God answered.
"Have I died and gone to hell? Tell me I have," she pleaded to her friends.
Sorry, Lady Emma, it's actually happening.
- Maya Rodale

Did you (or do you) have a nickname? Let us know in the comments! And check out more of Maya's Wallflower moments tomorrow when she stops by Fresh Fiction. Readers can get their hands on The Wicked Wallflower next Tuesday, October 29. For more romance visit our Everything Romance page.