Meet Eve Edwards And Sneak A Peek At The Other Countess — With Giveaway!
Tue, 06/21/2011 - 2:18pm — admin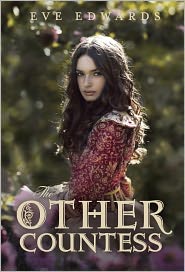 Author Eve Edwards takes YA readers back to the past with her new series, The Lacey Chronicles. The series first, The Other Countess, is a July Top Pick! RT's Raven revealed, "I stayed up way too late to finish this one — but it was so worth it! Edwards has created a richly detailed historical world with lively characters." Today the author offers a special peek inside the series, gives you access to the entire prologue and first chapter and hosts a giveaway so you can enter to win your own Advance Reader Copy of The Other Countess!
A warm "hello" from Oxford, England, to all of you in the USA interested in the first of the Lacey Chronicles, The Other Countess. If you like your heroes handsome but troubled and your heroines disadvantaged but witty under pressure, then I think there will be much in the book for you. There are jousts and feasts, gossip and girlfriends, alchemy and arrests for treason, so I promise you are unlikely to get bored!
But the novel is much more, I hope, than just a romance dressed up in pretty historical trappings. I have a mischievous voice in my head saying, "Hi, my name is Eve Edwards and I'll be your guide to Elizabethan England today." I do see myself as something of a scout for my readers, leading them through some interesting places and introducing them to some of the real characters of the period.
Writing the chronicles, I've come to love the world of the 1580s, that golden decade in Tudor England. It is a fabulous time, what with the rise of Walter Raleigh as the Queen's favorite, the rumble of war with Spain, the attempt to found the first American colony at Roanoke, the Mary Queen of Scots trial and execution and to top off an eventful decade, the Armada. I've been spoilt for choice in my subjects.
Yet I've always believed that these big historical events are most interesting and best understood when they impact on the lives of characters you grow to know and love. What would you do if you were an Elizabethan girl under the authority of a father who had a form of gambling addiction (alchemy)? How would a young man react if asked to prosecute for treason people who he has known since childhood? These are some of the questions I've tried to answer. Do let me know whether or not you think I have been successful.
- Eve Edwards
You can check out the complete prologue and first chapter of The Other Countess now and be sure to mark your calendar because The Other Countess hits stores on July 12. But you don't have to wait that long to read the story, we are going to be treating you to special content and a chance to win your own copy of The Other Countess each week until the book hits stores!
GIVEAWAY ALERT: Three lucky readers will each win an Advance Reader Copy of The Other Countess. To enter tell us what aspect of life in the past has you wishing you were a part of the historical court. Or email your comment here with your name and US mailing address. The winners will be announced on next Tuesday! 
BLOG UPDATE 6/28/2011: And the winners are ... Melissa (Books and things), RivkaBelle and Cindy Lou Hoo! For another chance to win an Advance Reader Copy of this book, click here.