Meet Kate Douglas' New Dark Wolf - With Excerpt!
Mon, 04/29/2013 - 9:23am — admin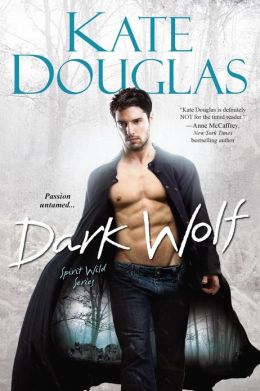 The ending of Kate Douglas' beloved Wolf Tales series felt like the end of an era, but when we heard the author was bringing back her Chankus in a different way her new Spirit Wild series, we were all over it! We spoiled you with a sneak peek of Book #1 Dark Wolf back in January, and today we offer even more details on the series starter, which hits shelves tomorrow. Plus, you can download the entire first chapter for more sexy Chanku goodness!

When I ended my Wolf Tales series in 2011, I knew the first generation Chanku stories had come full circle, but I still wanted to see what was going to happen to the children. Unlike their parents, they were born into loving families who taught them to embrace their shapeshifter heritage, and they grew up in a world aware that not only did the Chanku exist, but they'd been the first sentient inhabitants of the planet. Sort of hard to tell them to go away, right?
Because the children's lives were so different from that of their parents, I knew their stories would have to represent their unique place in society. Who better to begin with than Lily Cheval, the very precocious daughter of the Chanku pack's über-alpha, Anton Cheval. Lily is beautiful, brilliant, and powerful, but she has yet to find a man who can challenge her. That is, until she meets Sebastian Xenakis. Sebastian is not Chanku, though he shifts by magical means. Lily is fascinated by him — and wary. There's a darkness that surrounds Sebastian — a darkness that might be connected to a series of gruesome attacks on innocent young women. 
I hope you enjoy reading Dark Wolf as much as I loved writing the story. It's gritty, sexy, and a fresh take on creatures that have fascinated me from the beginning. I promise readers who haven't read Wolf Tales that they won't have any problem following Dark Wolf. It's a new world for the Chanku, and a new reading experience for those who want stories that don't always follow the rules.
- Kate Douglas
***

You can download the entire first chapter here, and pick up a copy of Dark Wolf when it hits shelves tomorrow. For more smokin' hot shifters visit our Everything Erotica Page.