Michele Sinclair On Mapping Her McTiernay Series
Wed, 06/19/2013 - 12:48pm — admin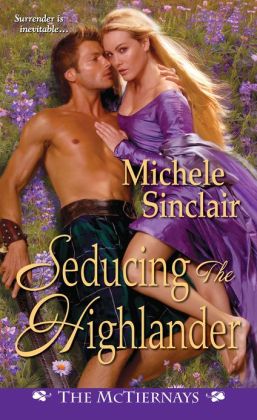 Beginning as a secondary couple in Michele Sinclair's McTiernay series, Craig and Meriel demanded their own story. Loudly. So the author listened and Seducing the Highlander was born. Today Sinclair discusses the themes she explores in this historically set romance and also shares pictures of the Scottish castles that influenced her novel.

When I started writing the McTiernay series, I had mapped out the main stories for each of the brothers and always intended for the fourth book to be about both twin brothers falling in love at the same time with another set of twins. Yes, it is a little corny, but the book preceding it was somewhat emotionally heavy, so I thought it would provide some levity.
Well, I was not very far into writing the book when I realized that each brother had his very own, very unique story to tell and I was not doing Craig and Meriel any justice by trying to combine their story with his brother's. And I am so glad that I did not, for as I started putting together Seducing the Highlander, I discovered not just one theme but three that I wanted to explore.
The first is far from unique: friends becoming lovers. Many of us women fall in love with our best friends and have to use some very interesting skills to get our man. Almost all my stories have two parts — getting the hero and heroine together and then life afterwards. The second theme in this book is about the coming together of two very similar personalities. We all know that adage opposites attract, but in some cases it is similarities that draw people together. But how can two souls who truly do not believe in putting anything away live together?
Though it's the briefest theme in the novel, the third one was the most important one to me: loss of a child. I have two beautiful children, and while I have never suffered a miscarriage, almost every friend I have has. Many of them have experienced multiple ones. Recently, a close friend lost her child. In the wake of this loss, we sat around and I mostly listened as I had not experienced this type of deep grief, but the stories I heard were really eye opening. What helped, what didn't, what was painful, etc. I realized that I wish I had known this information years prior, for I am sure in my efforts to say something comforting, I did the opposite. So while other books have discussed miscarriages and oftentimes from the point of view of the mother, I explored this topic from the perspective of those around her in hopes to reach out and convey a little bit of insight to people like myself who have no idea what to do in such circumstances. Thanks so much to those wonderful friends who allowed me to interview them and touch on wounds in an effort to tell this part of their story.
I am not only inspired by the lives of those around me, but by my surroundings. And what is the best setting for Highland series? Scotland. Here are a few pictures of my trip there and how they help me envision what I write.
Above is a picture of Dunnotar Castle layout and what it looks like today, which is a situated on a headland and I based Faire Creachan on it.
Stirling Castle is a marvel, but looking through the arrow slits I was able to see what the archers could in trying to aim and hit their targets. Very difficult! Also was able to see some tapestries that were made in the same fashion and style of the medieval period. Never realized how intricate they could be. This is what I think of when I think of Meriel's ability.
I don't what it is about Urquhart Castle, a place Robert the Bruce spent a good deal of time, but I go back to it often when I am thinking about castle layouts, being next to the water and the varying land the buildings are built upon. While the layout is different, I think of McTiernay Castle similarly.
This is the Great Hall of Linlithgow Castle. Something I envision when thinking about large stone versions. This is really formal so I tend to think of Caerphilly Castle and its great hall when I think of the McTiernay Great Hall — with just a more impressive ceiling. I also visited several abbeys and they were works of art. You can see how a person was inspired (religion and academically) when there.
These were taken from the top of the battlements of Caernarfon Castle. And while a Welsh castle, it gave me the feeling of what it would look like to those standing watch on top of the towers or walking the curtain walls. And last is the stairwell that people run up and down in my books, which are so narrow and the steps so steep with a rope handrail that you know that people were either VERY skinny or had to call out to make sure the stairwell was clear!
- Michele Sinclair
You can pick up a copy of Seducing the Highlander, available in stores now. And for more historically set love stories, head on over to our Everything Romance Page.