Michelle Madow's Self-Pub Secrets and Giveaway!
Mon, 03/03/2014 - 1:01pm — admin
With the release of her latest YA, The Secret Diamond Sisters, Michelle Madow has officially made the move from self-publishing to traditional publishing. Her Transcend Time Saga, which launched in 2011, quickly became a favorite amongst readers thanks to Michelle's intensive marketing plan and today, Michelle shares her insights and tips for self-pubbed authors looking for success. Stay tuned to the end of the interview for a chance to win a copy of The Secret Diamond Sisters! 
***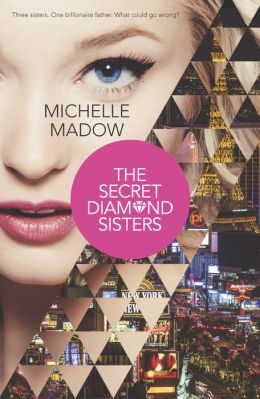 Social media plays an integral role in promoting books. Which platforms have you found most successful in putting your book on readers' radars? Have any platforms become more (or less) influential over the course of your career?
I've found that reviews and interviews on book blogs are a great way to put my book on readers' radars. By getting reviewed on blogs, and doing interviews on them, I can get discovered by readers who follow that blogger online — and usually bloggers post their reviews on Twitter and Facebook, which further helps spread word. Posting on my Twitter, Facebook and Instagram accounts is fun, and a great way to get to know my readers and for them to get to know me, but the people who follow me on there are people who have already heard of my books. So I definitely think that getting featured on blogs is a great way to attract new readers! 
You're very active in setting up events and local appearances for your books. What advice do you have for authors who are nervous about approaching stores and libraries to host an event?
I've spoken at a lot of high schools, and I've found that high schools are usually enthusiastic about authors coming to visit — especially if you're local, or if you attended that high school when you were a teen. It's understandable to be nervous about approaching a store, high school or library, but the worst that can happen is that they say they're not interested, and the best is that they say they are!  
Can you tell us a little bit about your decision to switch to traditional publishing? What advantages or disadvantages did you see in making the change?
I've wanted to be traditionally published since I first set the goal to start writing novels in 2008. But breaking into traditional publishing is hard, especially when you're a new author with no existing fan base, because you're more of a risk. In 2011, I noticed that many authors were having success with self-publishing. At that point, I'd written three novels and was having trouble breaking into the business. So I self-published the first book I'd written, Remembrance, hoping to develop a fan base and raise my chances of getting a traditional deal with one of my other books. And it worked! I grew a following, and gained confidence in myself as a writer from the people who supported me. I'm so happy with my decision to independently publish The Transcend Time Saga, because it got my name out to readers, and it was a fantastic start to my career.
So far, there have only been advantages for me with making the change to traditional publishing. With The Secret Diamond Sisters, I've had the help of my amazing editor, Natashya Wilson, who has pushed me to bring the story and characters to levels I never could have on my own. I have a professional cover design team who created beautiful, pop-out covers. (I designed my own covers for Transcend Time.) I have a great marketing team behind me, and a fantastic publicist to help decide what best to do to spread word about the series and to get it into bookstores and reviewed by professional publications. Working with a large publisher has been a dream come true, and I can't wait to see what it brings for me in the future!  
How has your writing process changed since making the move into traditional publishing?
A huge difference between self-publishing and traditional publishing is that with traditional publishing, I'm working under contracted deadlines. With self-publishing, if I needed to slow down my writing to give myself more time to work on publicity or editing, I could do that. It would mean it would be longer until my next book was ready, but that was fine, because the only person I had to report to was myself. Now I have deadlines for when the second and third books in The Secret Diamond Sisters trilogy are due, which means I can't allow my writing to slow down when I'm devoting time to other aspects of the business. Instead, when I'm nearing a deadline I need to work later into the night, and work on weekends. I've only taken two days off from working during the entire months of January and February!   
What do you think authors, self-published or not, should do more of to gain maximum exposure for their books?
Giveaways are a fantastic way to gain exposure for any book! People always like getting things for free. By doing a giveaway, you're going to encourage people to check out your book to see if they want to enter to win. Even if they don't win, your book is now on their mind, so there's a higher chance of them buying it in the future!
***
Eager to read The Secret Diamond Sisters? Then enter below for a chance to win one of three copies! Contest is open to U.S. and Canadian readers, and ends next Monday! Good luck!
***
To learn more about Michelle and her writing, visit her official website and connect with her on Facebook and Twitter! And for even more exciting YA authors and books, visit our Everything Young Adult Page!