Modern Advice From Historical Matchmaker Lady Sophia Dalby - With Giveaway!
Thu, 07/22/2010 - 5:34pm — admin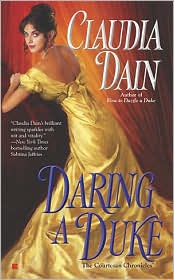 Historical matchmaker Lady Sophia Dalby is the renowned courtesan-turned-lady of Claudia Dain's historical series, The Courtesan Chronicles. Lady Dalby has just had her hands in the midst of the unexpected match between American miss Jane Elliot and the English Duke of Edenham in this month's Daring A Duke. Now, Lady Dalby stops by to answer RT's questions about flirting, men and the true value of scandal. And don't miss the GIVEAWAY at the end of the interview!
RT: What are three requirements a man must meet before he can be considered "husband material"?

SD: First and foremost, he must have absolutely no need for a fortune. His duty is to provide you with one, never the reverse. Any man who cannot bountifully provide all the delicious extravagances of life is simply not ready for the endless joys of matrimony.

After that first condition is met, a man must be agreeable, and by that I mean that he eagerly agree to do whatever it is you require him to do. Of course, it is a woman's responsibility to encourage a man, by whatever means, to be agreeable. I trust you comprehend me.

Finally, and of equal importance, a man must be totally and irrevocably besotted. He must adore you. If he does not, he is clearly an imbecile and not worthy of your attention. You, darling, are worthy of a selfless, all-encompassing love. Never waste your time on a man who does not realize that.

RT: You have a habit of matching marriageable young ladies with the perfect man, what signs do you look for to see that the couple has chemistry?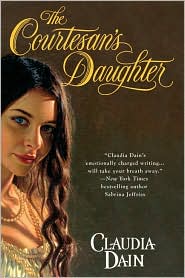 SD: But darling, a woman can create chemistry with any man, if she tries hard enough and if she is motivated enough. Naturally, I have my own reasons for knowing that to be true, but I do understand that these young, virginal ladies have different expectations than I, so I will try to answer your question as best I can ... There is a certain spark that is revealed in the eyes, in the manner, in the suppressed emotion that is quite obvious if one is looking. Then there is the matter of their dispositions being complimentary to each other; in the case of my daughter, Ashdon was so clearly the ideal man for her. She was the perfect woman to bring bold joy into his rather gloomy life; as to what he brought to her, I leave that to your imagination.

RT: You are a renowned flirt, can you offer some tips for ladies looking to master those skills?

SD: It is a tragic state of affairs when a woman needs lessons in flirtation, but the world has come to that sad state, hasn't it? I truly cannot comprehend it. Ah, well, the world changes and we must adapt to it. However, flirtation is a skill which must never be allowed to wither.

Based on my own life, I must say that men do seem to enjoy being teased and made fun of, in the most gentle way, I assure you. Naturally, they thrive on a direct stare delivered with feminine grace, and on the touch of an innocently placed hand, a lilting laugh at some quip on their part ... in general, a man must be made to feel that you are completely enthralled by him and are equally quite ready to be done with him in the next breath. It is the agony of uncertainty, the knowledge that he can lose you at any moment, that is the life's breath of flirtation. Men do so love to pursue things, don't they? Well, darling, simply insist that he pursue you. He will only thank you for it later, I promise you.

RT: You managed to marry off your daughter, congratulations. What is your advice for young women who fear they have a secret or scandal that will prevent them from marrying a good catch?

SD: A woman's first duty to herself is to make the best possible use of anything scandalous concerning her reputation. Men simply are riveted by scandal. It is only bitter women, those who never had a lovely scandal of their own, who believe scandal is a bad thing.

RT: What is the most important weapon, or tool, for a woman looking to land a match?

SD: What a marvelous question! I'm delighted to answer it. A woman's most important weapon is her belief in her own high value. A woman must never treat herself as being of no value, something I see far too much of, and which grieves me endlessly. If a woman doesn't know in her soul that she is worth everything, who else will ever believe it?

RT: You suggest every woman have at least one "improper adventure" — do you also think that every woman (other than those who follow your career path) should have a husband?

SD: I think a woman should have whatever she wants. If she wants a husband, she should arrange for herself to have one. If she does not, then she should happily arrange for whatever she does want. The thing to remember is that a woman need not, and indeed, should not, sit and sigh in the corner, wishing and waiting for life to deliver into her lap that which she desires. The best way, the only way, to get what you want is to go out and get it.

RT: Do you think you will ever take a husband? We've noticed the sparks between you and the mysterious Lord Ruan, could you tell us how your relationship would develop if the world were a perfect place?

SD: Darling, my personal life is quite, quite personal. Whatever happens between Lord Ruan and myself, or whatever does not happen, is entirely between myself and Lord Ruan. But he is an interesting man, is he not? Quite unlike anyone I've ever met. In fact, in my weaker moments, I confess that I am quite intrigued by him.

RT: Have you ever considered returning to America? If not, what is keeping you in England?

SD: My children keep me in England, and my life is here. I do not think of America often, yet ... I don't pretend to know what the future brings. Who knows where I shall find myself next year! Life is full of surprises, and managed well, surprises can be entirely lovely.

RT: What is an adventure that you'd like to have?

SD: Oh, I think I have enjoyed quite as many adventures as any woman could possibly have.

RT: And finally — which do you prefer, American men or English men?

SD: How utterly charming, but of course I can be induced to prefer any sort of man; that is certainly no secret. How else was I to have made a fortune as a courtesan?

Naturally, now that I have no "need" for men and can simply enjoy them, or not, as the mood strikes me, I do think that both American men and English men have their own distinct advantages. English men are so arrogant, so innately certain of their own superiority, aren't they? Does an Englishman have any reason to feel superior? It's fun to find out!

As for American men, I do like a man who enjoys a good, rousing fight, a man who will answer to no one, except me, of course. There is a certain virility, a raw power to many American men that I would have such fun harnessing.

I do think that the true point of your question, and the point I will make in parting, is that it is a woman's duty to discover for herself what sort of man she prefers. Never let anyone else make that determination for you. You are in control of your own destiny and your own happiness, my darlings. Never forget that, and never relinquish that responsibility to anyone else. Their choices will never satisfy you. That is the entire point of life, is it not? To be completely satisfied by it.
RT: Thank you so much for stopping by! Dain's Lady Sophia Dalby has helped six marriagable misses find their matches. Although Daring A Duke can be enjoyed as a stand-alone novel, the author suggests the series be read in a specific order (learn why here). The order is: The Courtesan's Daughter, The Courtesan's Secret, Private Places, The Courtesan's Wager, How To Dazzle A Duke and Daring A Duke.
GIVEAWAY ALERT: Three lucky winners will receive a copy of  Daring A Duke. To enter, leave a comment on this blog post about why you love historicals or Claudia Dain's series or email here with your comment and the subject line "Daring A Duke By Claudia Dain Giveaway." One entry per person. The contest winners will be revealed on July 28th.
BLOG UPDATE: And the winners are ... Barbara E. and users Artemis and MLReed1982!