A Modern Spin On The Marriage Of Convenience - With Giveaway!
Wed, 01/26/2011 - 3:16pm — admin
It's an old fashioned marriage for the contemporary couple in Robin Kaye's new release, Yours for the Taking. Now the author offers her advice for making this kind of partnership successful. And enter to win a copy of Yours For The Taking at the end of this post!
My latest book, Yours for the Taking is a modern day marriage of convenience story with an urban twist. I thought you might benefit from The Dos and Don'ts of Marriages of Convenience. I'm sure my heroine, Gina Reyez could have used the little cheat sheet below to help her on the rocky road that led to her happily ever after. 
THE DOS AND DON'TS OF MARRIAGES OF CONVENIENCE
1. Do get the sexual orientation of your marriage partner correct. Any mistake could prove embarrassing later on in the relationship. Then again, as in Ben and Gina's case, it could prove to be rather exciting.  
2. Don't show up late to the wedding. Rich, eligible bachelors required to marry don't like being kept waiting. Nor do they appreciate being told they're lucky the intended bride showed up at all. 
3. Do practice the wedding kiss before the ceremony. This might help establish said partner's sexual orientation. But then in Gina's case, even a hell of a wedding kiss didn't help. She just assumed Ben had imagined kissing a rather short Hugh Jackman. Who knew?
4. Don't have an ex-boyfriend as the bride's witness. It creates a lot of male posturing and might lead to a fight—either between the groom and the witness or between the bride and groom.
5. Do discuss sleeping arrangements in the event your husband's family comes for a visit. 
6. Don't assume a honeymoon is unnecessary. It might seem that way to the bride and groom, but not to the people who insisted on the marriage in the first place. Failure to schedule at least the appearance of a honeymoon might cause helpful family members to send the couple off to a remote ranch in the mountains of Idaho.
7. Do have wedding pictures taken. It makes the wedding seem more believable especially when it could take a while to get the official marriage license. Besides, most couples walk around with their wedding picture in their wallet, not their marriage license. Nothing screams fake when it comes to a marriage of convenience more than the eagerness to show proof.
8. Don't fight about the prenuptial agreement after the wedding—even if what you want to do is tear it into little, tiny pieces of confetti to be saved in case a genuine wedding takes place.
9. Do communicate changes in living situation with your new spouse, even if the two of you don't share a residence. It doesn't help matters when he shows up and finds your family has moved in.
10. Don't assume that everything will go as planned. Nosy families have a tendency to throw monkey wrenches in the works for at least 300 consecutive pages prior to the Happily Ever After.
- Robin Kaye
Hopefully these rules will help you navigate your own relationship (whether or not it's a marriage of convenience). And be sure to enter to win this contemporary romance below!
GIVEAWAY ALERT: Five lucky readers will receive a copy of Yours For The Taking. To enter leave a comment on this blog about the best tip you've ever heard for making a relationship successful. Or email your comment here with your US or Canadian mailing address and the subject line "Robin Kaye's Yours for the Taking Giveaway." The winners will be announced on February 10th.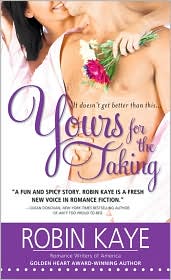 BLOG UPDATE 2/10/11: And the winners are ... Lisa B., Deborah N., Amy Krisitine, Dawn N., and IR