Modern Updates For A Well-Known Mystery Hero
Fri, 08/13/2010 - 10:53am — admin
Mystery author Paul Levine is best known for his long-running series about "linebacker-turned-lawyer" Jake Lassiter. This year is the twentieth anniversary of the very first Jake Lassiter novel, To Speak For The Dead. And in light of the event, Levine is making some modern changes to his hard-boiled mystery hero's series.
The first of these changes is a formatting update; the Jake Lassiter novels are being republished as e-books. This is a move that Levine is all for but, the author admits his hero would not embrace. Levine gives readers a look inside of his hero's head for the explanation: Lassiter says about himself, "I'm not trendy or hip. I don't drink fizzy water from France or booze in fluorescent colors. I don't carry a Blackberry, an iPhone, or a purse. You won't find my mug on MySpace. I am not Linked In, and I don't Digg or Stumble Upon. I don't have a life coach, an aroma therapist, or a yoga instructor, and I don't do Pilates. I'm not into blogging or tweeting, sexting or spinning. In short, I'm not a yuppie, a metrosexual or Generation X, Y, or Z." But never mind that Lassiter is unlikely to ever read an e-book, today's readers can now enjoy Levine's Lasstier stories in this contemporary format.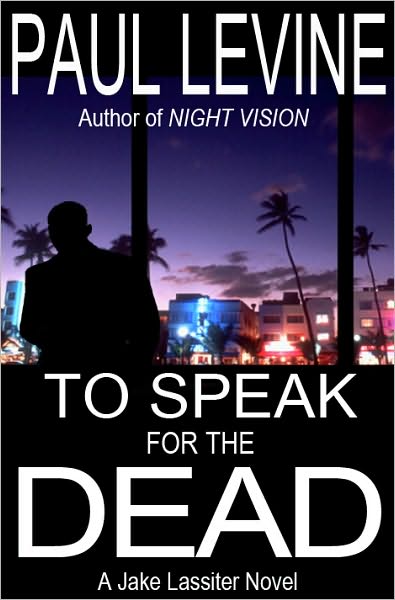 The series' e-book conversion began with Levine's first Lasstier novel, To Speak For The Dead. The second Jake Lassiter novel, Night Vision, and Levine's stand-alone, 9 Scorpions, are also already available as e-books and the rest of the Lassiter mysteries will soon be as well. The author reflects, "What's surprising to me after twenty years is that the book is written is the classic three-act structure, even though I'd never heard of that structure (or any other) at the time I wrote the book." 
The second update to the series is that, for a limited time, when readers purchase the e-book version of To Speak For The Dead, 100% of the royalties will go to the Four Diamonds Fund which aids cancer research and treatment. After Levine lost a close family friend to a rare form of cancer, the author decided that he wanted to make a meaningful contribution to the cause. The Four Diamonds Fund, was on obvious choice for Levine who explains, "In addition to providing world-class medical care, the Fund supports research in immunotherapy, carcinogenesis, and several other fields I can barely spell, much less understand … I'm hoping that the e-book will sell for years, bringing enjoyment to readers and support to a life-saving cause. Hoping, too, that others will be moved to directly contribute." For more information about the Four Diamond's Fund and Paul Levine's contribution, please visit his website.
The third series modern update to the series will delight fans new and old alike. The newest Jake Lassiter mystery hits shelves in 2011. The novel, titled Lassiter, will make Jake delve into a mystery from his past which, the author promises, "culminates in a murder trial that threatens to blow the lid off the secrets of Miami's movers and shakers." And we just learned that Levine has sold yet another Lassiter mystery, Last Chance Lassiter, which is still to come from publisher Banam Dell.
Levine reflects that over the last twenty years his writing has changed in several ways, "I get to the heart of a scene quicker. Dialogue is shorter, punchier. Part of that may result from having written for television." But, no matter the format he's in, Paul Levine promises that the essence of Jake Lassiter will remain the same.