Molly O'Keefe Shares Her Recipe For Creating The Perfect Bad Girl
Wed, 07/11/2012 - 10:54am — admin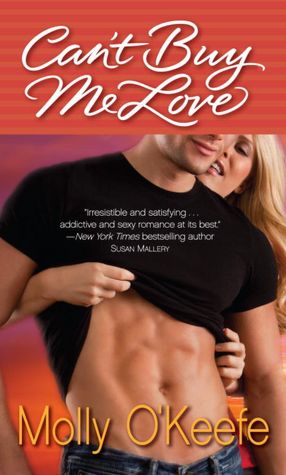 Readers on the hunt for an intriguing multidimensional heroine will be thrilled to meet Molly O'Keefe's Tara Jean Sweet. This contemporary romance leading lady starts out this month's Can't Buy Me Love as the hated gold-digging fiancée of hockey player Luc's elderly father. TJS even earns the not-so-loving nick name "Bimbo Barbie" from Luc, her sexy son-in-law to-be. But will Luc be able to see past her gold digger mask, and realize that she truly has a heart of gold? Today, the author stops by to give us a look at Tara Jean's life of hard knocks and talks about exactly what this heroine goes through to turn herself into "Bimbo Barbie" in the hope of escaping her past and finally finding some stability. (Little does TJS know that it may just be pro athlete Luc and not his rancher father who will be changing her life forever, in the very best of ways.)
Romance novels are littered with bad boys. We've romanticized the scowls, the bad attitude, the selfishness, the lone wolf mentality and lifted the bad boy hero to an art form. Most of these heroes are bad for a reason — they're wounded. Somehow, someway, something in their past hurt them and they hide their soft spots behind armor of leather and bad behavior. And that's why we love them - the dichotomy of strength and vulnerability.
When I started to write Can't Buy Me Love, I wanted to write a bad girl with that same dichotomy. A girl born on the wrong side of every railroad track. Whose childhood and particularly her mother forced her to sink or swim. And because she chooses to swim, she has a past that haunts her. She has done some seriously questionable things and has been hurt so many times that she doesn't let anyone get close. She doesn't care what people think of her, as long as she gets what needs to survive.
And that's how Tara Jean Sweet was born.
I think of her like a shipwreck survivor in a sex kitten body. And the person that saved her — Lyle Baker, to everyone else in his life he is an abusive, neglectful, vain father and husband. But for Tara, he's a savior. And that the two of them strike a deal so that they can both get what they need. For Lyle, it's the return of his estranged children, Luc and Victoria. For Tara, it's shares in the leather design business Lyle owns. Shares that mean a future she can be proud of. That can be hers — unsullied by her past.
Until, that's right - her past shows up.
It's a difficult balance creating a bad girl trying to be good, while pretending she's still bad. In fact as I write that I get a headache. But this is the recipe I used; follow at your own risk!
1. One whole "bimbo Barbie" body. This is used as both armor and enticement. Boobs are key. (aren't they always?)
2. Liberal pinches of tight clothing barely buttoned. Leather adds a particularly "bimbo" flair. Red leather if you like a little extra trashy heat.
3. Hair and lots of it. Blonde, preferably. Lots of hairspray. You might think you have enough hairspray — use more. Same with lip gloss. You can never have too much lip gloss.
4.Mix equal parts disdain for men and a deep desire to be loved
5. One part terrible mother figure (father figure will work in a pinch)
6. Three parts past transgressions, especially the questionable decision-making about men.
Stir, serve with a man who learns to see past the armor to the woman beneath and see what happens!
- Molly O'Keefe
To read more about Tara Jean, pick up a copy of Can't Buy My Love, available in stores now. For more exceptional heroes and heroines, visit our Everything Romance Page!