More From Debut YA Author Beth Revis
Tue, 01/11/2011 - 2:45pm — admin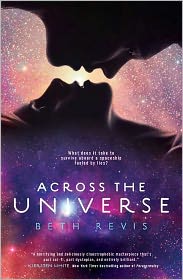 Beth Revis' debut novel Across the Universe is an RT January Top Pick! This fast-paced, futuristic YA will have your pulse pounding as teens Amy and Elder race to discover the identity of the killer aboard their spaceship. In the January issue of RT BOOK REVIEWS magazine, readers got to learn about the making of this new tale in the Teen Scene article "Star Struck." Now the author answers a few more of our questions about that book that hits stores today!  
RT BOOK REVIEWS: Tell us about the trilogy. Do you have the second and third books written? Plotted? Can you give us spoilers (like are they finally going to land on the planet?!)?
Beth Revis: Haha! Yes, I do have the entire trilogy planned, and I know what the final scene of the third book will be. But I'm keeping mum about the details! I'll only say this: At least two things you think are true from the first book are actually lies.
RT BOOK REVIEWS: What would you have done in Amy's place in the first chapter? Been frozen or made a run for it?
Beth Revis: I think I would have been frozen. Amy's biggest reason for staying on Earth was her boyfriend, and while she loved him, she wasn't going to let that love hold her back from what she wanted to do. I was never much of a romantic, and I was (and still am) quite pig-headed. When I was in high school, I met the man who would eventually become my husband. Two of my closest friends got married within a year after high school graduation. And even though I had the man, and lived in an area where a woman's greatest success is marriage and children, I wanted more. So I left my man and went to a college two-hundred miles away (and then further away, when I did that study abroad program I'd always wanted to do), then waited a few more years while I established my career and chased a few more dreams, before I finally agreed to marry my ever-patient high school sweetheart. I was never willing to put my life on hold just because of a silly thing like love, but now that we've been married for three years, I'm starting to realize that true love isn't about putting your life on hold--it's about chasing after every single dream you have, but still coming home to him.
RT BOOK REVIEWS: As a former high school teacher, did you feel better equipped to write YA, since you were around teens all day?
Beth Revis: Actually, I think my own vast immaturity helped me be both a better writer and a better teacher! I never had trouble identifying with my students because I wasn't much older than them, and I still liked all the same sorts of things they liked--music, movies, having fun. So I could do things like compare Jason of Argonaut fame to the latest cheating celebrity or bring up Hollywood when teaching about the Japanese Heian period in a way that my students could identify with. I've always liked the stuff I should have grown out of--teen movies, YA novels, comics--and that helped me to work with my teenage audience whether they were in the classroom or behind my book.
For more from Beth Revis you can check out the interview in the January issue of RT BOOK REVIEWS and be sure to pick up your own copy of Across the Universe, which hits shelves today!