More Than Words: A Moving Romance Anthology
Tue, 04/05/2011 - 1:00pm — admin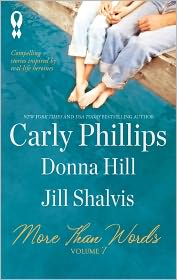 It is always wonderful to hear about women making positive changes in their communities. Mix this charity work with sweet romance and you get this month's Harlequin anthology More Than Words Volume 7. For this book, contemporary romance authors Carly Phillips, Donna Hill and Jill Shalvis teamed up to write love stories inspired by real life heroines who work to better others' lives. We were so enamored with this great collection of stories that we asked the authors to tell us a little bit more about their characters and the work they do.
***
Carly Phillips
In "Compassion Can't Wait" (the motto of the Andre Sobel River of Life Foundation - ASRL), heroine Julia Caldwell lost her younger sister to cancer when she was in her late teens. The illness robbed Julia of her sister and also destroyed her family and the bond they'd once shared. As a result, Julia knows the importance of keeping families together during a child's illness. As a social worker at a children's hospital in Miami, Julia works closely with ASRL whose mission it is to provide single parents with the funds to enable them to stay by their critically ill child's bedside. Within 24 hours of a request, ASRL pays rent, utilities, buys food, etc. However, as the "healthy" sibling, Julia also knows the importance of paying attention to the child who is left out when illness consumes a family. When Julia meets Michael Cortez, the "healthy" twin whose brother is terminally ill, she has to do something to help him. Through her ASRL contacts, she connects Michael to his idol, Major League pitcher for the Miami Suns, Kyle Hansen - who happens to be Julia's first love. Timing and youth tore them apart ten years ago, but when Kyle lays eyes on Julia again, this time he's determined to make it forever.
Donna Hill
Verna Scott, my heroine in "Someplace Like Home", is a career social worker. She has seen more than anyone should during her years working in child welfare. Verna is a woman who cares deeply for others, often to the detriment of her own happiness. After years in the field and then behind a desk, seeing kids shuffled back and forth through the foster care system, she realizes that she must pursue her dream of creating a "real home" for the teens who need it. She wants a place that the kids in the system can come to and feel welcome, where they can connect with others, always feel safe and wanted, no matter which foster home they have to sleep in that night. Verna is compelled further by her own personal need. She was a product of the system as well. She wants a family. She wants to belong, and opening "Someplace Like Home" begins to heal some of her wounds. She never expected to meet Ronald Morris, a man whose passion for helping others runs as deeply as hers. 

For me, Verna was inspired on several levels; first, by the awesome work being done by Nancy Abrams and the Family Re-Connect Program, and also by my own experience as the site coordinator for a residence for homeless teen mothers. In combining Nancy's passion and my experience, Verna Scott was born--complete with idealism, baggage, hopes and dreams-- like all of us. What is asked in this novella is: What is family? Verna and Ronald and the cast of Someplace Like Home set out to find the answers. I do hope that you will embrace what they have discovered.
Jill Shalvis
My story for the More Than Words 7 collection was inspired by a real organization called WET (Women's Expressive Theater). They run a program for at-risk teen girls called Risk Takers, which is designed to bolster girls' self-esteem and provide them with leadership tools and life skills, empowering them to take steps to make their dreams come true.
This in turn inspired me to create my heroine, Ellie Cahn. All she wants to do is move on from her past and help at- risk teenage girls, like the one she'd once been. Her professional life is fulfilling but her personal one is seriously lacking. Then a blast from her past comes back into her life and she has to reconcile herself to the fact that not all of her past was bad. In fact, some of it has brought her the very  best thing of all, the very thing she's tried to bring to the girls she helps. Love.
Looking for more information about the More Than Words 7 anthology? Click here to read the *Web Exclusive Review* for this charming collection of stories. Also, Harlequin is offering two free e-books on their site which were also inspired by true stories. Click here to download Pamela Morsi's Daffodils in Spring and Meryl Sawyer's Worth the Risk.