The Mother Of New Adult - A Genre That Isn't New
Mon, 05/20/2013 - 12:17pm — admin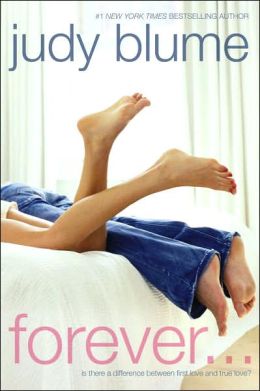 St. Martin's Press is credited with coining the term "New Adult" back in 2009, and most readers of the genre are probably familiar with the common themes: loss of innocence, drug use, taking on adult responsibilities, starting college, dealing with serious relationships, etc.
Those of us "of a certain age" however, know there's a book that predated New Adult, which most of this burgeoning new category probably owe its success to. This book is arguably the Fairy Godmother of New Adult: Judy Blume's Forever.
If you've never read Forever, it was once the book teen girls kept hidden under their mattresses. Published in 1975, it was young adult before YA became the popular category it is today. Dealing with such controversial topics as teen sex (the heroine, Katherine, actually goes all the way with her boyfriend Michael in fairly graphic detail, something that NEVER happened in books back then), birth control, teen pregnancy, drug use, and suicide, Forever has been through the proverbial wars. It's been banned from high school libraries, marketed as an "adult" book instead of a YA book by the publisher because it was deemed too risque for teen readers, and has still been banned by school districts as recently as the last decade.
Is some of the content dated? Naturally. When Blume wrote Forever, the drinking age was 18, and AIDS wasn't even a blip on the horizon, as the author herself admits in a foreword that appears in new editions of the book. But readers of New Adult fare like Tammara Weber's Easy and Colleen Hoover's Slammed will recognize many of the themes in Forever. There's Katherine's desperate last-minute attempt to apply to new colleges to stay with her boyfriend, then her confusion at being attracted to someone else when she's separated from the boy she's promised to stay with forever. There's the push-pull of friends and even family smoking marijuana and getting drunk to excess. And like most of the New Adult fare currently making its way to bookshelves, nothing in Forever ends up tied in a nice, neat bow.
Like today's New Adult books, Blume's Forever introduced teens (and those older readers) to the idea that books for young people could accurately reflect their reality — that the real-life issues of birth control and depression and drug use and unplanned pregnancies and yes, even having sex happened and had to be dealt with and didn't always have a happily-ever-after sort of ending.
So while we devour this new genre, we should be paying homage to the author who really blazed the trail for it in the first place. Thank you, Judy Blume, for writing a book that crossed genres by reflecting the reality facing older teens heading out of the relatively safe nest of high school and living home with parents and into the wide world of real-life decision making.
Looking to get started in the world of New Adult? Here are a few books to check out:
Something Like Normal by Trish Doller
Wait For You by J. Lynn
Ten Tiny Breaths by K.A. Tucker
On Dublin Street by Samantha Young
Losing It by Cora Carmack
Did you read Forever as a teen? Are there other books that pre-date the New Adult trend that have the same themes? Tell us in the comments below!