My How Things Have Changed! Robin Lee Hatcher on her 30th Writing Anniversary
Thu, 01/16/2014 - 10:55am — admin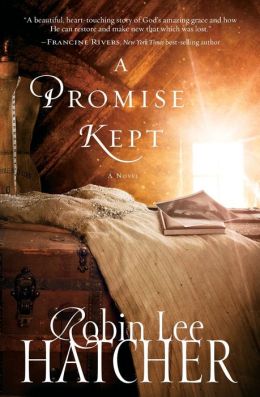 Thirty years is a good long time. Several members (though not all, ahem) of RT's Web Team haven't been on this planet for 30 years! But that's the amount of time that Robin Lee Hatcher has been writing books. This month, her 30th publishing anniversary, Robin releases her 69th title, an RT Top Pick!, A Promise Kept. We had to hear everything.
I would love to tell you that I was only ten when my first book released, but I must confess, I was a little (cough, cough) bit older than that.
When I wrote my first books, I used a pen and yellow legal pads, writing evenings and weekends whenever I found a spare moment. During coffee breaks and lunch hours at work, I would use the office IBM Selectric to type the pages I'd written the night before (anybody remember onion skin and carbon paper?).
In 1984, personal computers were being introduced to more and more people, so when my first book released, I put my car in hock and bought a PC with two 7 ¼ floppy disk drives and a daisywheel printer that shook the house when in use. (Price tag was over $5,000!) I learned to use that computer as I entered the first half of my third novel onto one of those floppy disks.
So much has changed over the past 30 years, both in my career and in publishing as a whole. I started out writing historical romances for the general mass market. But after 30 releases, I responded to the desire in my heart to write a different kind of story. I began writing women's fiction and romance novels for the Christian market. It was there that I found my true voice as a writer.
Writing contemporary women's fiction has allowed me to dip into more corners of my heart and pull bits and pieces from my own life to put them into the lives of my characters. That is certainly true of my latest novel.
A Promise Kept opens as Allison Kavanagh arrives at the house her aunt Emma bequeathed to her — a log home in the mountains. Her marriage of more than 20 years has ended in divorce because of her husband's alcoholism. She was so certain God had promised to save her marriage, but obviously she was wrong. Now she is moving from Boise to Kings Meadow to start life afresh and find a way to heal from her heartbreak.
Like Allison, my marriage ended in divorce because of my husband's alcoholism. I was devastated. I'd been so convinced God had promised me He would save our marriage. I had believed His promise through many difficult times, but it hadn't come to pass. I knew God didn't lie. Therefore, I must have misunderstood.
But God had many things to teach me in the following years, including that He answers prayers in totally unexpected ways and in His own time, not mine. One of those unexpected ways was realized when my husband and I were remarried more than five years later. God used divorce to save our marriage! How unexpected is that?
While my characters are never me — I allow them to be individuals and allow their lives to unfold in their own way — there are always pieces of me in them. Every lesson God teaches me eventually makes its way into one of my stories. It's one of my favorite things about being a writer, and I'm so grateful for the publishers and editors who have allowed me to write deeply personal novels like A Promise Kept.
With all of the changes I have witnessed and experienced in the publishing industry over the past 30 years, not to mention all the wonderful technical advances that have impacted writers over those decades, I cannot begin to predict what the next 30 years might bring. And since I wasn't 10 years old when my first novel was published, I don't know if I will get to write for another 30.
But I hope I'll get to write right up until my last breath on earth. Now that would be a perfect ending to my own story.
Have you read all of Robin's 69 books? A Promise Kept is available now, online and in stores. And for more inspirational stories, be sure to visit our Everything Inspirational page.