Mystery Writers Of America Name Martha Grimes 2012 Grand Master
Tue, 11/29/2011 - 3:50pm — admin
Mystery author Martha Grimes has just been named the 2012 Grand Master Award recipient by Mystery Writers of America. Each year, the award goes to a writer who has both contributed to the genre and consistently produced high-quality works of mystery fiction. When Grimes receives her award this spring at The Edgar Awards Banquet hosted by Mystery Writers of America, she will be joining a group of authors that includes Alfred Hitchcock, Agatha Christie, Daphne du Maurier and more recently, Mary Higgins Clark, Dick Francis and Stephen King. Today we're taking a look at Grimes' career to see just why she won this year's Grand Master award.
Martha Grimes is an American author with a distinctively British style. So much so that not only is her most famous series set in the UK, Grimes is lauded as an author that skillfully weaves together the style of a British mystery and the atmosphere of an American one. Grimes first book was rescued from Little, Brown's slush pile in 1979 and published as The Man with a Load of Mischief in 1981. From that year through today, she has been writing stories at a rate of approximately one book per year. In that time she's gained an incredible following of fans around the world. Even near the beginning of her career, back in 1985 Time magazine compared Grimes' tone to that of renowned mystery author Raymond Chandler.
Grimes is best known for her long-running Richard Jury series. The books follow Richard Jury, a forty-something Scotland Yard Inspector, and his friend the British aristocrat Melrose Place who has renounced his titles. Jury's sleuthing adventure started back in 1981 with Grimes' first-ever novel, and now, twenty-two books later, his series is still going strong with 2010's The Black Cat. 
Grimes hit the New York Times bestseller list for the first time in 1987 with The Five Bells & Bladebone and several more have made the list in the intervening twenty-plus years, including The Black Cat. A fun fact about the beloved mystery series is that all twenty-two books in the series are named for famous pubs. (You can see an interactive map of the English pubs named in Grimes' series here.)
For the most part the Richard Jury books are all set "across the pond" with two notable exceptions. 1993's The Horse You Came in On brought the famed fictional detective to Baltimore and the book was such a commercial success that the Mayor of Baltimore at the time, Kurt Schmoke, gave the author a key to the city and named August 12, 1993 Baltimore's official "Martha Grimes Day". Two years later, Grimes sent Richard Jury back to the states to solve a New Mexico-set mystery for Rainbow's End.
Richard Jury and his compatriots are not the only sleuths that fill Grimes mind. Over the years, Grimes has also published stand-alone books and two other series, one that features the 12-year-old American detective Emma Graham and the other that follows an amnesiac teen named Andi Olivier. Additionally, the author has created several characters that move from one series to another. Back in 1992 Grimes paused her Richard Jury series for The End of the Pier, a story set in small-town America, which had both a vicious serial killer and an engrossing mother-son relationship. The End of the Pier introduced readers to Maud Chadwick who would appear again in the Emma Graham series when it was started four years later. Additionally in Rainbow's End readers met Mary Dark Hope, a young orphan that would appear in the Andi Olivier series starter Biting the Moon, several years later.
Biting the Moon did not just showcase another side of Grimes' considerable writing talent, it also gave readers a chance to learn about Grimes as an activist. The story focused heavily on the prevention of animal abuse and featured Andy and Mary Dark Hope working against illegal hunters and a dog-fighting ring. The author also put her money where her mouth was; she donated two-thirds of the book's royalties to animal abuse organizations throughout the United States of America. (Grimes spotlights some good animal rights sites around the Internet here.)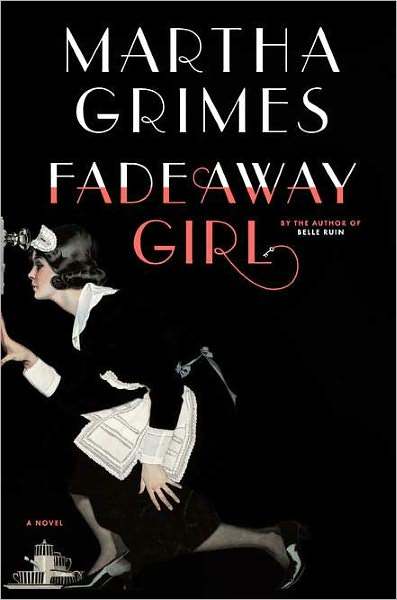 Most recently, Grimes published 2011's Fadeaway Girl, the fourth book in the Emma Graham series. In this tale, the young detective deals with a cold case from twenty years ago, a kidnapping that involves a missing baby and suspicious seeming circumstances. There's no denying that Grimes stayed topical with this story — it has one RT editor thinking about the news headlines that accompanied the recent Casey Anthony tragedy. 
With all of these accomplishments under the author's belt, we are thrilled that she is being honored with the Mystery Writers of America's Grand Master award. RT's Whitney says, "I'm not normally a mystery-lover but now I am really looking forward to picking up a copy of Grimes' Nero Wolfe Award-winning The Anodyne Necklace." For more information about Martha Grimes you can check out her website here or learn more about the Mystery Writers of America's annual Edgar Awards here!