Nalini Singh On The Psy-Changeling World And Heart Of Obsidian (Spoiler Free)
Tue, 05/21/2013 - 10:55am — admin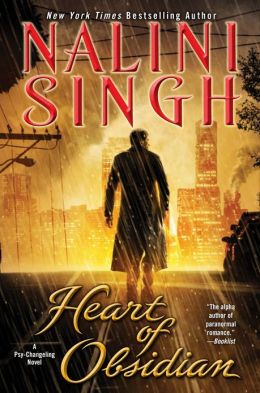 ***SPOILER-FREE ZONE***
Like many, many, many other romance readers out there, I have been obsessed with trying to figure out the Ghost's identity from Nalini Singh's Psy-Changeling series. For almost a dozen books, the author has seeded hints into her stories about the infamously powerful Psy defector. Working from inside the PsyNet, an intricately woven mental pathway that the Psy race needs to survive, the Ghost has teamed with Changeling shifters and humans alike in order to free the minds of his fellow Psy from the destructive Silence that does not allow emotion.
Singh, well known for her airtight plotting, has stated that she has always known who the Ghost is, however, this has been the series most tightly guarded secrets. (I have tried on multiple occasions to get Nalini to let down her guard and give me the name of the Ghost — to no avail.) But the wait will finally be over on June 4 when Heart of Obsidian releases. 
If, like me, you are avoiding all spoilers regarding the mystery of the Ghost, then have no fear because I will not be giving away any secrets. However, I did get the chance to talk with Nalini about her series while playing a fun word association game, with my commentary. Below you can check out our game and peer into the Heart of the Author.
***
Morgan: Ghost
Nalini: Power
Well, I can't say this is too much of a surprise. After all, anyone who can hide from detection on the PsyNet has to be incredibly powerful ... maybe even a Cardinal?
***
Morgan: Obsidian
Nalini: Heart
Clever, Nalini, very clever, using the title of your book back at me! But does mean that someone in the story has a heart of obsidian and therefore cannot be touched by emotion? Or perhaps the heart has turned into obsidian in order to protect the one(s) they love? Hmmm. 
***
Morgan: Conspiracy
Nalini: Deep
Yes, there are some very, very deep conspiracies throughout the series. But is the Ghost the last of the secrets or are there more waiting to be discovered?
***
Morgan: Council 
Nalini: Broken
The Council, Psy rulers, have been fracturing ever since the series beginning when Council member Enrique Santano was shown to be a serial killer. But with several members skirting around absolute Silence (I'm looking at you Anthony Kyriakus, Nikita Duncan and Kaleb Krychek) could this group put themselves and the Psy race back together again?
***
Morgan: Teleportation
Nalini: Awesome
If I could have one Psy power, this one just might be it.
***
Morgan: PsyNet
Nalini: Fractured
Well, something is just going to have to be done about this!
***
Morgan: War
Nalini: Horizon
Considering the destruction that took place in last year's Kiss of Snow, it's a pretty safe bet that there is going to be some serious violence in Heart of Obsidian. But who will be the aggressor?
***
Morgan: Shifter
Nalini: Tiger
Now, isn't it interesting that Nalini didn't say 'leopard' or 'wolf'. Perhaps there is a new Changeling pack in our future.
***
If you are anxiously waiting for the release of Heart of Obsidian, you only have another two weeks to go. The book releases on June 4, but I suggest you pre-order this title now! And in the meantime find more stories to read on our Everything Paranormal/Urban Fantasy Page.