Nancy Holzner and the Epic Battle of Wills in Hellforged - With Giveaway!
Thu, 12/30/2010 - 2:12pm — admin
In Nancy Holzner's latest Deadtown tale, Hellforged, the author pits her heroine Vicky against a book with amazing powers. Now get a sneak peek at the Book of Utter Darkness and a taste of the battle of wills to come. And don't miss the giveaway at the end of the post!
Most avid readers can think of a book they consider life-changing. But imagine reading a book that could change your destiny. In Hellforged, the second novel in my Deadtown urban fantasy series, such a book falls into the hands of shapeshifter Victory Vaughn. Vicky must look deep into the past to battle a present danger. And the only tool she has for doing so is an ancient book written in a language she doesn't understand—the language of Hell.
Vicky has a history with this book. Throughout her years of apprenticeship to her aunt Mab, she was forbidden even to touch it. But at age eighteen, considering herself a fully trained demonslayer, Vicky ignored her aunt's prohibition and took the book down from its shelf. As a result, she unwittingly summoned the demon that killed her father and left its mark burned into her soul. That night, Vicky wanted to destroy the Book of Utter Darkness. Now, ten years later, she must try to unlock its secrets.
The book contains prophecies that may be coming to pass. Vicky's "cousin" Pryce, a demi-demon, believes he knows what's to come and that Vicky is destined to help him unleash the forces of Hell. Yet prophecies are tricky things that are open to many interpretations. At Mab's insistence, Vicky opens the hated book and struggles to understand its message. It's her only chance to stop Pryce.
But how do you read a book that's written in a language you don't speak? Vicky's demon mark gives her access to the book's meaning, but it's not easy. Instead of reading in the normal sense—seeing how letters form words and words join together in sentences—Vicky stares at a page until understanding takes shape in her mind. Or not. The book fiercely guards its secrets. Its contents move around within its pages. Sometimes the book gives her nothing. And when Vicky does gain a sense of a passage, she can't be sure that her understanding matches its real meaning. The book knows she's an enemy. It actively tries to deceive her, attempting to trap her in a destiny she doesn't want.
This is not terrific news to Vicky, whose best-ever English grade was a C+. Especially when she's also learning to fight a new kind of enemy and struggling to survive a series of tests that Pryce has devised for her—tests where failure means death and success could mean a fate that's even worse . . .
- Nancy Holzner
Find out what happens in this epic battle of wills in the newest Deadtown novel, Hellforged, in stores now!
GIVEAWAY ALERT: Three lucky winners will receive signed copies of the first and second Deadtown novels. To enter leave a comment on this blog telling us about a way that reading has affected your life. You can also email your comment here with your US mailing address and the subject line "Nancy Holzner's Deadtown Giveaway". One entry per person, please. The winners will be announced on Friday, January 13th!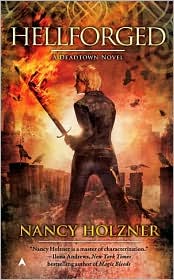 BLOG UPDATE 1/13/11: And the winners are ... Van P., Christine Mead and Jo Ann Hakola