Naomi Chase On The Tangled Webs We Weave...
Thu, 02/17/2011 - 4:45pm — admin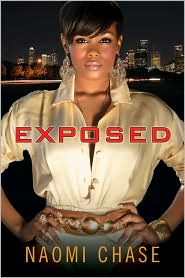 Maureen Smith bares all about her new pen name Naomi Chase and her erotic fiction, Exposed, a February RT Top Pick! This novel will have readers wrapped up in the devious (and oh-so-steamy) plot that has heroine Tamia Luke attempting to hold onto her boyfriend and get a promotion.
I was thrilled when Morgan asked me to write a blog about my erotic fiction novel, Exposed. When I first decided to venture into a new genre, I came up with a story that was such a departure from my usual romance novels that my editor told me to write the book under a pseudonym. Hence, Naomi Chase was born. Naomi isn't a diehard romantic, so HEA endings aren't necessarily a given in her novels.
Which brings me to Exposed.  
Tamia Luke is a woman who seems to have it all—beauty, brains, the perfect job, and a rich, handsome boyfriend. With so much going for her, why would she risk losing everything just to keep a secret hidden? That's the crux of Tamia's dilemma in Exposed. 
When wealthy businessman Dominic Archer threatens to blackmail Tamia for sex, she has a tough choice to make. Does she allow Dominic to jeopardize everything she's worked so hard to achieve? Or does she agree to his demands in order to protect her scandalous secret? Unfortunately, her decision to have an affair with Dominic sets a chain of events in motion that ultimately lead to her downfall. 
As I was writing this book, I realized that Tamia is one of those characters you're going to have a love/hate relationship with. At times I found myself completely frustrated with her irrational decision-making. But at other times I sympathized with her, because she was the girl from the wrong side of the tracks who dared to aspire to greater things. She craved love and acceptance from her boyfriend Brandon, and she desperately wanted to belong in his family's world of wealth, power, and privilege. But once she began sleeping with her blackmailer, she became addicted. Sex with Dominic was like nothing she'd ever experienced before. He gave her the kind of back-arching, thigh-shaking, toe-curling orgasms that kept her coming back for more—even though she knew she shouldn't.
As you might imagine, writing those erotic encounters between Tamia and Dominic was definitely enjoyable for me. But what I most enjoyed about this novel was following Tamia through the tangled web of deceit and betrayal she wove for herself. Her actions were so unpredictable that I never knew what her next move would be, or how far she would go to cover her tracks. She kept me on my toes from the beginning until the dramatic end.
Ultimately, I hope Exposed will push some buttons and cause readers to think about how some of the choices we make can change the course of our lives.
I'm currently working on the sequel, Deception, which will be released in February 2012. Tamia is on a mission to reclaim everything she lost in Exposed. Let's hope she can keep herself out of trouble this time…or maybe not!
- Naomi Chase
Get caught up in Tamia's web in the first tale about this heroine who must give into a blackmailer to keep from being Exposed, on shelves now!