Neta Jackson On Who Is My Shelter? And Her Other Windy City-Set Stories
Tue, 03/08/2011 - 11:24am — admin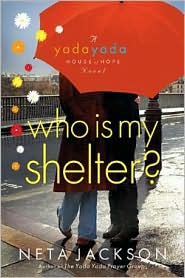 We turn the spotlight on the new inspirational novels that received Top Pick! ratings for the month of March. First up is author Neta Jackson whose inspirational mainstream novel, Who Is My Shelter? us the latest in her Yada Yada House of Hope series. Now Jackson shares a look at the city that has captured her heart and provided the setting for her two popular inspirational series.
Chicago. Even though I grew up on the west coast and always thought of myself as a "country girl," I've spent most of my adult life here and realize I've fallen in love with the city. Yes, even with all its quirks and messy politics and racial tensions. The lakefront and Chicago skyline are beautiful. The ethnic festivals and concerts in the parks are exciting. But most of all, I've fallen in love with the wonderful diversity of people that call Chicago home.
So it was natural to set both my novel series in Chicago, because it gave me the cast of characters I wanted and needed to help express one of the primary themes of my novels: That the Body of Christ is made up of very different "body parts" (read ethnic groups and languages and racial differences and cultures—see 1 Cor. 12:12, 13—not just different spiritual gifts) and those different body parts need each other (v. 21-26).
Which is why I wrote my novels, to show just how much value each "part" adds to the work and ministry of the Body of Christ. When we allow God to build relationships over some of the barriers that normally keep the different body parts apart (denominations, culture, ethnic and racial differences), we learn just how much these "others" enrich our spiritual lives.
Plus … it's downright fun! (I mean, isn't Lucy the bag lady a stitch?)
I have a prayer group of sisters who are multi-cultural and from different church backgrounds, and we're going on 14 years now! God has used these sisters to stretch my world and help me grow spiritually, and they became the inspiration for the fictional Yada Yada Prayer Group series. And while I was writing that series, I started volunteering at a homeless women's shelter here in Chicago—which inspired the Yada Yada House of Hope series! I knew my own tendency to "pass by on the other side" of the homeless men and women I saw on the street, and wanted my readers to come with me beyond the nameless faces to get to know real people with real lives, loss, and loves.
So much of what happens in my stories is a reflection of what God has been teaching me through the people of Chicago, whether black, white, Hispanic, Asian, rich, poor, homeless, middle class, young, old, home grown, or foreign born: That God often uses unlikely people and places to accomplish His purposes.
So that's why I chose the Windy City for my stories. Besides, if I need to check out a restaurant's ambiance or get my first-ever pedicure or ride a Segway along Chicago's lakefront or watch a bunch of otherwise sensible people do the Polar Bear Plunge on New Year's Day (no, I didn't jump in that ice-bound water!) as research for my stories—hey! Who said you can't have a little fun while you're writing a novel!
- Neta Jackson
Want to spend some time in (fictional) Chicago? Pick up a copy of Neta Jackson's latest Chicago-set inspirational tale, Who is my Shelter?, which is in stores now.