A New Voice in New Adult: An Interview with Mila Ferrera
Fri, 09/13/2013 - 11:32am — admin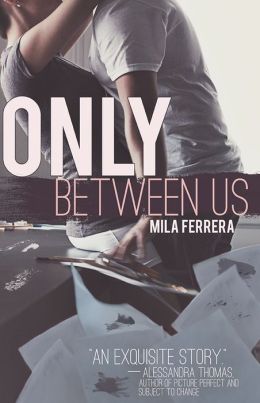 With a blend of psychological twists, romance and art, Mila Ferrera's Only Between Us had no trouble catching our attention. Neither did Mila herself. With a psychologist day job and a love for authors like Jeaniene Frost, we knew we wanted to pick Mila's brain about her journey as a writer, her thoughts on the New Adult craze and the inspiration behind her book. So sit back and relax with this exclusive interview!
***
Is there a specific author or book that inspired you to become a writer?
I had been on an absolute romance binge after reading very little for pleasure while in graduate school. I don't know that there's a specific author or book that got me going, but Jeaniene Frost, Sherrilyn Kenyon and Gena Showalter were certainly my go-to authors for escapist fiction. I think I eventually decided that those novels were so much fun that I wanted to try writing, too. I wrote some speculative fiction before turning to contemporary romance. 
What do you love most about writing New Adult?
There's a certain vulnerability to it, a rawness that adulthood and experience buffs away. New Adult romance is about figuring things out, and the stakes are high. I like that characters in this age group still have ties to their parents, are often still in school or training, and are still deciding who they want to be — and who they want to be with.
Where did the idea for Only Between Us come from? Is the final version similar to your initial idea? 
I'm a psychologist, and complex ethical situations make for a lot of tension and some interesting (and scary) stories. The idea for Only Between Us came to me as I pondered one of those hypothetical situations, and the rest grew from there. I'd say the final book is quite similar to my original idea, with the exception that one of the secondary characters developed to the point where I decided I had to write a novel about him, too (Everything Between Us).
Do you have a favorite scene from the book? 
I loved writing the scene that inspired the cover (their first kiss), but I think the scene I'm most proud of is when Caleb finally reveals his truth, something he never talks about but needs to. I love cathartic, heartbreaking, emotional scenes like that.
You love writing stories with psychological twists. What are some of your favorite twists in books/movies/shows?
Because of my profession, I like when stories of trauma, mental illness and the like are handled accurately and with respect. But I'm certainly fascinated by the dark places of the mind, and I love gritty stories with twists that carry me along and then have this huge punch at the end. I remember Fight Club and Primal Fear being like that, even if some of the details were farfetched.
Both the hero and heroine in the book are artists. Besides writing, what other creative passions do you have?
These days, writing IS my creative passion, though in my younger days I studied classical voice and did some theater stuff. But between the intense day job, mothering and writing, my plate's full, and I'm happy.
Hooked? Then be sure to check out Only Between Us, available at e-tailers now. And for more YA and New Adult news, visit our Everything Young Adult page.