From Newspapers to New Adult: A Q&A with Christina Lee
Wed, 09/18/2013 - 1:12pm — admin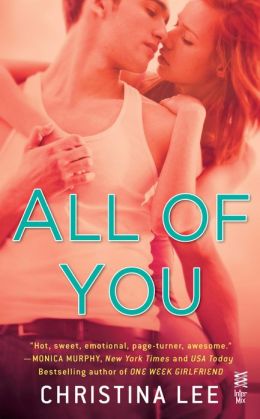 When we first heard about Christina Lee's new adult romance, All of You, we were immediately drawn in by the story's unique premise. The way she has taken the usual bad-boy, good girl trope and turned it on its head is refreshing and intriguing. Today, Christina chats about All of You, her transition from newspaper columnist to fiction writer and new adult literature — she even spills some details on the upcoming companion novel, Before You Break!
Your first official foray into writing was as a newspaper columnist. How have your experiences in journalism influenced your novel writing?
Even in newspaper writing, where fact-gathering is essential, every column had a beginning, middle and end, with hopefully a compelling enough story to keep the reader's interest. But probably the biggest way my experience as a columnist influenced me was that it helped me realize that I truly wanted to write fiction. I wanted to create imaginary worlds with realistic characters, and so I completed my first full-length novel in 2008.
New Adult books are very hot right now. Why do you think readers love these stories so much?
New Adult novels straddle the time between teenage years and mature adulthood. The protagonists are roughly 18-26 years old. That time period in a person's life has specific conflicts that revolve around first-time independence, self-discovery and adult responsibilities. In contemporary stories especially, the voice is similar to young adult books — the majority I've read are written in first person point of view, which made the story feel more immediate, gritty and raw. And I think there is a willing audience out there waiting to gobble up these types of books.
What inspired you to write All of You?
I had just finished reading several romances that featured virgin females and alpha type males. I batted around the idea of what a story might look like if that trope were reversed and the details of the book hit me so hard that I wrote the whole thing in record time. I happen to swoon over the nice guys in stories and I'd come across my share of very determined and self-sufficient females in my life, so I could understand where they were coming from and why they held so fiercely to their independence. I hoped it would make for an interesting book in the New Adult category.
Your hero, Bennett, is waiting to find "The One" before he has sex. Can you tell us a little about how his past led to this decision?
Bennett's mom had him when she was just a teenager. He'd witnessed countless men traipse in and out of her life leaving false promises in their wake. He helped raise his three younger sisters, one of whom became a pregnant teen as well. At some point Bennett made the conscience decision that it wasn't worth it to have sex with someone he wasn't in love with or committed to. He absolutely did not want to become a young father himself.
What can you tell us about the companion novel, Before You Break?
The novel is set right after All Of You and is told from Ella's and Quinn's dual points of view. Ella is Avery's best friend from All Of You. She's a psychology major, lost her brother to suicide in high school, and has a story of her own to tell. She meets Quinn as a baseball player on campus, but doesn't realize he's the mysterious, haunted voice from the suicide prevention hotline she works for until much later in the novel.
If you're in the mood for a New Adult HEA, then pick up All of You, on sale this week at e-tailers everywhere. And for more YA and NA love stories, be sure to visit our Everything Young Adult page!