A Night Out At The Honky Tonk - With Giveaway!
Wed, 10/06/2010 - 12:06pm — admin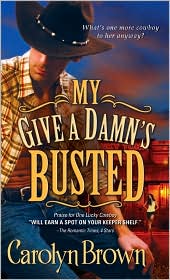 Ever wonder what it would be like to spend a night hanging out with some line-dancing, beer-drinking, Texas cowboys? Now you can get in on the action without ever leaving home. Author Carolyn Brown's October release, My Give a Damn's Busted, is the latest installment of her down-home contemporary romance series that revolves around a cowboy bar in Mingus, Texas. And after this special trip to the Honky Tonk, the author will be giving away two signed sets of her entire series!
Put on your tight fittin' jeans and boots! Tonight we're going honky tonkin' in Mingus, Texas. There are several beer joints in town but we are going to the Honky Tonk. It's still hot in Mingus, Texas even though it's the first of October so don't be thinkin' about a jacket. Dress to work up a sweat because you will be two-steppin' and line dancin'.
The Tonk is an old weathered wood building with a wide front porch and a neon sign on top of a three-decker façade that flashes Honky Tonk. The parking lot smells like beer, smoke and excitement. Luther, the bouncer, is right inside the door. His arms are crossed across an acre of chest: he's as big as a television wrestler and has muscles that would put theirs to shame.
There's an empty table over there on the far wall. Y'all go on and sit down and I'll make my way through the dancers to the bar and get us a bucket of beer. For those who don't know, a bucket of beer is a galvanized milk bucket that Larissa, the owner/bartender, fills with six bottles of beer and a couple of scoops of ice. Don't you just love the loud music and the crackle of excitement?
A long bar stretches across the back of the room. Pool tables are in the far back corner and Merle Avery, the seventy year old pool shark, is layin' bets and takin' money from sexy cowboys in tight Wrangler jeans. Makin' your hormones whine just lookin' at those sexy butts as they stretch out over those pool tables? Have a drink of Coors to cool down.
Two juke boxes sit side-by-side across the room from the table. The new one with all the bells and whistles is quiet tonight because the old one that still plays the real records, three songs for a quarter, is plugged up. Hope you like Merle Haggard, Willie Nelson, George Jones, Dolly Parton, Conway Twitty and Loretta Lynn and the rest of the older artists.
Set that empty beer bottle on the table and fish another one out of the ice. I see a hunky cowboy eyeing you from the bar. Yep, that one with the bedroom eyes and the barbed wire tat peeking out from the sleeve of his western shirt. He's comin' this way. You ready to dance?
He's got a deep Texas drawl that would make a holy woman's pantyhose crawl down around her ankles. And there's a slow old Conway Twitty song, "Hello Darlin'" playin' on the juke box. Go on girl, it don't get no better than this. You can go home to New York and tell all the folks that you two-stepped in the Honky Tonk with the sexiest cowboy in Texas. Or maybe after a couple of dances you won't want to go home at all.
You might want to do what Larissa did and settle down right here in Mingus.
Aha! See that cowboy who just came in the door. He's got his eyes on our table and is headed this way. It's not me, darlin'. He's lookin' right at you and likin' what he sees.
Down the rest of that beer because by the time you get finished dancin' with him it's goin' to be warm and hot beer is downright horrible. I was right. He's zeroed in on you.
Must like blonde hair and big blue eyes.
Well, would you look at that? I'm the only one at the table and there's a new group coming in the bar. My friends don't look like they're interested in joining me anytime soon so that new group can have the table. I'll go on over to the bar and visit with Larissa when she has time between customers while my city friends enjoy line dancin' out there on the wood floor. They're doing a fine job of kickin' back, slappin' their boots and shufflin' forward three steps. Must be the beer and those cowboys that look like sex on a stick givin' them all that energy! 
Dammit! It's two o'clock and Luther has unplugged the juke box. Time to go home. Is that moans and groans I'm hearing from my new friends? Well, darlin's, you don't have to leave. Mingus is a friendly place and the Honky Tonk is open again tomorrow night.
We can come back for more beer and dancin'. Here's my cell phone … go on and call your boss!
- Carolyn Brown
Want more Honky Tonk high jinks? Enjoy this EXCERPT of the newly released My Give a Damn's Busted and enter to WIN your own set the entire signed series below!
GIVEAWAY ALERT: Two winners will receive signed sets of Brown's entire Honky Tonk series. To enter, leave a comment on this blog post about why you love westerns or e-mail here with your comment, mailing address and the subject line "Carolyn Brown's Honky Tonk Series Giveaway." One entry per person. The contest winners will be revealed on October 20th.
BLOG ENTRY UPDATE 10/21/2010: And the winners are ... Teri P and Nikkiphilton.