Nora Ephron Knows All: Linda Yellin talks Inspiration
Wed, 01/22/2014 - 12:26pm — admin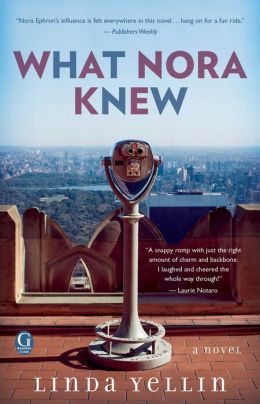 From Harry and Sally's on-again-off-again love affair, to You've Got Mail, where Meg Ryan and Tom Hanks fall in love over books, clearly the great Nora Ephron knew the way to our hearts. Which is why our interest was piqued by Linda Yellin's What Nora Knew, the mainstream RT Top Pick! that follows 39-year-old writer Molly Hallberg. Molly's stuck in a relationship rut until she turns an assignment about finding romance in New York City into her own real-life love story, with Nora's films as her guides. We had to ask:
***

What is it about Nora Ephron's stories that people want to revisit again and again?
They're the modern equivalents of good old-fashioned romances with endearing characters, misunderstandings and happy endings. Tom Hanks is the guy we all want and Meg Ryan is the girlfriend we all know. When you read Heartburn, you can't help but root for Rachel Samstat to spit out that baby and move on with her life. And, of course, in all of Nora's stories, there are the insights and all the funny lines. It's hard to resist insights and funny dialogue.
Why do you think finding true love is so difficult for otherwise smart, fearless women like your heroine?
Expectations. (Which I believe should remain high.) Luck. Getting out of our own way. Wait — let's go back to Luck. I sometimes think if I hadn't been home watching TV and eating Kung Pao Shrimp the Sunday night my husband first called, he'd be married to someone else now and I'd still be eating that Kung Pao Shrimp.
You cleverly avoid writing explicit love scenes in this book. What made you decide to keep it clean? 
Mainly for my husband's sake so the poor darling doesn't have to worry about me taking notes while we're in bed. ("Hm, nice. How do you spell that, sweetie?") I suppose if I could write Fifty Shades of Linda, I might give it a shot, but some stories just work better in the realm of romance versus sweat. That's true of all of Nora Ephron's movies. I'm sure nobody ever wanted to see Tom Hanks and Meg Ryan going at it. Nobody. Excuse me while I go wipe that image from my mind.
Ready to discover What Nora Knew? The title is available now online and in stores. And for more tales of self-discovery, visit our Everything Mainstream page!