NYC Teen Author Festival 2013: Making Bad Decisions
Mon, 03/25/2013 - 2:41pm — admin
Every year, Young Adult authors from the Northeast and around the country meet up in New York City for the NYC Teen Author Festival. Created by David Levithan, Sarah Mlynowski and Daniel Ehrenhaft, the festival has been going strong for a decade. Made up of school visits, panels and a mega booksigning, the festival is always packed with teens, parents and booklovers. The RT editors attended several events and this week will report back what we learned to keep you up-to-date in teen lit. 
***
YA CHARACTERS DEALING WITH BAD AND UNEXPECTED CHOICES
Authors K.M. Walton, Eireann Corrigan, Terra Elan McVoy, Caela Carter, Alissa Grosso, Jacquelyn Mitchard with moderator Aaron Hartzler
The decisions that we make as teens can have long lasting effects, and nobody knows this better than the panel of Young Adult authors speaking on the dubious choices their characters make.
To explain a bit about their heroines, and reveal some extremely poor judgments, the authors each took turns reading a passage from their respective books.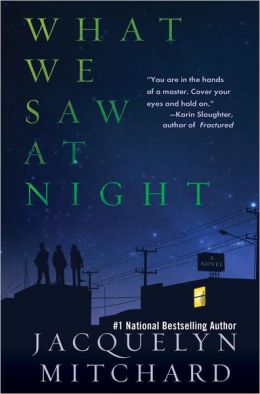 Jacquelyn Mitchard kicked off the event with an excerpt from her newly released mystery What We Saw At Night. The author explained how her heroine, Allie, has an extreme allergy to the sun which makes it necessary to live on a reverse clock, only leaving her house at night. Allie begins taking serious risks because she might not be alive for long. However, one night her adventure quickly spirals out of control when Allie and her friends witness what may have been a murder. Yet, instead of calling the cops or telling their parents, the teens keep it to themselves. Mitchard explained that Allie makes her decision not to tell so she won't get grounded for being someplace she shouldn't have been. The author says that her heroine is only looking at short term gains because her fear doesn't allow her to see the big picture, and this leads to enormous regret.
The heroine from Alissa Grosso's Ferocity Summer, however, is definitely looking at some long term repercussions for her actions. After a terrible accident the summer before, Scilla Davis is in some serious trouble, however, she has a way out. The FBI has told her that if she helps them find who is selling a dangerous street drug, then they will get her charges dropped. The only problem, Scilla will have to betray her best friend and boyfriend. 
Trouble with the law is also the theme of Terra Elan McVoy's Criminal. This upcoming title has heroine Nikki arrested and on trial for a crime her boyfriend, Dee, committed. She could help herself by just testifying against him, but Nikki refuses. There is nothing, nothing she won't do for Dee even if it means losing her friends and going to jail.
The choice that Caela Carter's heroine makes in the Top Pick-rated contemporary YA Me, Him, Them, and It also has far reaching consequences. This debut follows protag Evelyn as she goes from good girl to teen statistic when she unexpectedly gets pregnant. The author explained that Evie is nothing but "terribly destructive" making many mistakes throughout the book, but the choice to have unprotected sex thinking that "one time won't matter" is, by far, the most life altering. 
Just like Evie's life takes a dramatic shift, Greer Cannon from Eireann Corrigan's The Believing Game finds herself in flux. After some seriously destructive behavior Greer lands in a reform school. While she is ready to stop the cycle of self-harm, Greer is not exactly sure how to go about it. Especially when it comes to helping her boyfriend Addison escape from a dangerous situation. Corrigan revealed that Greer tries to be a good person, but often comes up short.
While we all let ourselves down at times, it can hurt even more when our friends and family betray us. This is the topic that K.M. Walton deals with in her release Empty. As an overweight girl, Dell's insecurities have her looking for acceptance and love in all the wrong places. But the impetus for her self-destructive behavior stems from the fact that people around her that she should be able to count on fail her. 
After the readings event moderator, Aaron Hartzler, who is releasing his first YA novel next month, asked if the authors why their characters have allowed themselves to be in these types of situations.
Alissa Grasso said that sometimes teens do things out of habit, like her characters in Ferocity Summer with drug use. Her teens are just acting out a part at this point, and it may not be who they are, but it is all they know. 
Caela Carter said that problems can happen as a teenager, because teens can't avoid certain situations like adults can. In certain ways, high school can be a trap. Jacquelyn Mitchard jumped in to call school a "closed ecosystem" and laughed at the fact that teens can "only go where other gerbils go." This ecosystem, she said, is not always going to be nice to you and you can't always break free. 
Aaron then asked the authors if they had specifically crafted "problem" novels to teach readers a lesson on how to navigate young adulthood. Each author said they definitely try not to moralize — teens can spot this a mile away. When writing her story, K.M. Walton said that she tried very hard to just be true to Dell, her character. "This story is not about everyone, but about her." However, even without the authors consciously deciding on their story's "lesson," we feel that there is plenty to learn from these teen tales.
Join us all week long for more reports back from the NYC Teen Author Festival. And if you would like to meet some YA authors yourself, click here to learn all about Teen Day at the RT Booklovers Convention in May.