NYC Teen Author Festival 2013: Party Like It's 1899
Tue, 03/26/2013 - 4:16pm — admin
Every year, Young Adult authors from the Northeast and around the country meet up in New York City for the NYC Teen Author Festival. Created by David Levithan, Sarah Mlynowski and Daniel Ehrenhaft, the festival has been going strong for a decade. Made up of school visits, panels and a mega booksigning, the festival is always packed with teens, parents and booklovers. The RT editors attended several events and this week will report back what we learned to keep you up-to-date in teen lit. 
***
THAT'S SO NINETEENTH CENTURY: HOW YA AUTHORS PLAY WITH HISTORICAL ARCHETYPES

Authors Leanna Renee Hieber, Stephanie Kate Strohm,  Suzanne Weyn and Sharon Cameron with moderator Sarah Beth Durst
Before beginning the discussion on writing YA novels set in the 19th century, panel moderator Sarah Beth Durst warned the audience that a half an hour is not a long time to cover an entire 100 years and boy was she right! But the panel of four authors was able to cover a lot of ground … ground littered with great outfits. 
Kicking off the lively discussion about historically set YA novels, Sarah Beth asked the panelists why they had chosen to write about the nineteenth century. Stephanie Kate Strohm said that's an easy one — it was because of the American Girls dolls. The movies Sweet Home Alabama and Gone with the Wind also had a part to play. The author recounted that when she was young and her grandmother would sit her down in front of the TV for a re-watch Scarlett O'Hara struggle through the war. What Strohm remembers the most about the movie was the gowns. She had thought only princesses got to wear these large, flowing dresses, so she thought it was a fairytale. But her g-ma said "no, that's history".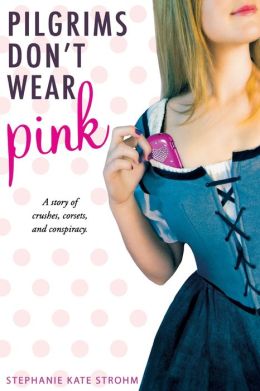 With this type of experience, it is no wonder that Strohm's books feature some amazing couture. In last year's Pilgrims Don't Wear Pink, modern day heroine Libby Kelting feels like she just doesn't fit into her time, so she decides to intern at Maine's Oldest Living History Museum, which means lots of corset wearing and old-timey talk. However, some snotty co-workers, a crush who turns out to be a dud and a little summer haunting has Libby thinking that the 19th century doesn't work for her any better than her own time. Perhaps things will get better for this heroine when she dons some Civil War gear in Strohm's upcoming release Confederates Don't Wear Couture.
Strohm's character isn't the only one who feels out of place. When describing how she gained a love for history, author Sharon Cameron said that she imagined herself in the past, even as a small child. Claiming that old, abandoned houses are the place to explore ("They are better than museums."), Cameron used her love of history to pen her recent release The Dark Unwinding. 
An eccentric inventor uncle who may or may not be squandering her inheritance to further his research, is only one of the problems that the protag Katherine Tulman faces. But who better than a headstrong teen with a stake in the game to uncover dangerous truths. Cameron said she enjoyed putting Katherine into difficult situations, like trying to figure out who her uncle's enigmatic (and very appealing) apprentice really is and what he wants. But this means staying one step ahead of everyone — good thing there are plenty of secret passages and other hidey-holes for Katherine to escape to. 
Progress and invention was a common theme throughout the 19th century, so it is no wonder that panelist, author Suzanne Weyn, used scientific exploration as the background to her novel Dr. Frankenstein's Daughters. This title presumes that the notorious Dr. Frankenstein's legacy did not die with him. Instead, the mad scientist left twin daughters behind. At 17, one of the girls has no interest in scientific experiments, but the other has found some mysterious notebooks that may allow her to continue her father's work. 
Suzanne explained that when crafting the story, she was looking to immerse the reader in the historical world she created — just like the author remembers when she read about Jo March from Little Women and Jane Eyre at Thornfield Hall.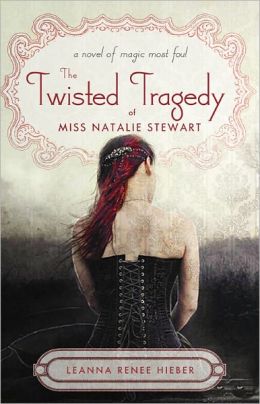 It isn't hard for author Leanna Renee Hieber to become immersed in the past. She said at nine she read Edgar Allan Poe for the first time and found a home. She remembers thinking, "Finally, someone understands me!" 
This need to connect with others through literature has become a hallmark of Hieber's writing. Her heroines tend to be a bit odd and misunderstood, including the protag suffering from selective mutism in her most recent series Magic Most Foul. "My writing is not about romanticizing history," the author said. "History is not pretty and often very, very, very ugly." But it is exactly this conflict that draws Hieber into the tumultuous time period. 
Sharon Cameron agreed that there is some very uncomfortable parts of the 19th century. She recounted that when she was doing research for The Dark Unwinding, she was shocked at the lax "Lunatic Laws" at the time that would allow a person to be committed to an asylum with very little, if any, cause. While this brings home the more extreme problems of history, other authors faced different challenges when writing their novels. 
Stephanie Kate Strohm told the story about her first time eating hard tack so she could experience what her characters would have to eat. How was it? Well, the author said that getting that biscuit down was definitely the "roughest part of writing the whole book."
Leanna Renee Hieber and Suzanne Weyn both had stories about the fashion of the time. Weyn saying that trying on a bonnet was especially difficult because it was like she was wearing "blinders". Hence the reason that her heroine, Ingrid, is always ripping her head-wear off — so she can see! Hieber on the other hand doesn't mind the somewhat restrictive clothing of past. In fact, she wears historical outfits oftentimes in her everyday life. "I was a Goth girl from the moment I was born," laughed the author.
To read about the NYC Teen Author Festival panel on YA characters dealing with bad and unexpected choices, click here. Come back tomorrow when we feature a video interview with YA author Elizabeth Eulberg. And if you would like to meet some Young Adult and New Adult authors yourself, click here to learn all about Teen Day at the RT Booklovers Convention in May.