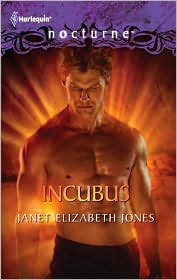 Get an exclusive look at Janet Elizabeth Jones' new paranormal series romance, Incubus, as the powerful vampire known as the Alchemist, who transformed the novel's hero into an incubus, speaks to the host of Night Raven News.
Night Raven News: Welcome to another Night Raven News interview with the cast of Janet Elizabeth Jones' paranormal romance Incubus, new from Harlequin Nocturne. If you missed the first two interviews, you can find them here and here. As promised, Night Ravens, we've saved this very special, very elusive guest for last. Please welcome Benemerut Neshi, aka the Alchemist.
In his human life, Ben was a physician in ancient Cairo. As a vampire, he's the closest thing to a druggist that vampires have, but his efforts to find a way to transform vampires into incubi and succubi have made him an outcast among his own people. It's a deadly process, and only one vampire, Meical Grabian, has survived it. Night Raven News wants to take a closer look at the vampire who made Meical's incredible, if perilous, transformation possible.
Ben, you don't look a day over twenty-five, but I've been told that you're the oldest and most powerful vampire in the New England enclave.
The Alchemist: I fear it's a dubious distinction. One cannot claim to be the oldest and most powerful of any vampire society. We don't know exactly how many Ancients live on in this world, maintaining a dormant state to escape their intense hunger. That is a compassionate act on their part; if they were to wake, their need would be so extreme that neither human nor vampire would survive it. As for the New England enclave, I'm hardly considered a member of their family. I am, and always will be, an outlaw among them.

5COMMENTS SUBSCRIBE TO RSS FEED EMAIL SHARE PERMALINKREAD ENTIRE POST