Olde Timey Spooks: Genevieve Graham on her Favorite Historical Paranormals
Fri, 11/01/2013 - 2:30pm — admin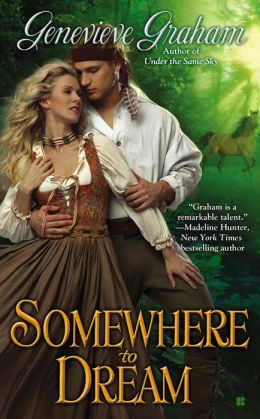 Genre blending is one of our favorite publishing trends and we love seeing what surprises will pop up when an author lets her imagination run wild. That's why our interest was piqued when we heard about Genevieve Graham's Somewhere to Dream, starring Adelaide, who lives among the Cherokee — and who has visions of the future. Genevieve's stopped by today to tell us her other favorite historical paranormals, and why the combination appeals to her. Take it away, Genevieve!
When I started to write my first novel, Under the Same Sky, I was hesitant about the genre. I mean, I knew I wanted to write a historical romance set in Scotland. But when I started to write, I discovered my main protagonist, Maggie, had The Sight. Not only that, but I tend to write in what they call a "literary" style. That's when I rolled my eyes at myself. Don't write that. It's too "done." I mean, really. Everyone's writing historical romance with paranormal elements in a literary style, right?
Except apparently they're not. Not the same way, anyway. Because when I submitted my book, a few agents said they couldn't figure out where to put it because the genre mix was too difficult to slot. That was a problem on which I certainly hadn't counted.
I realize that I haven't read that many historical novels with paranormal elements. I like that. It means that I'm part of something pretty unique. Here are my top five favorites
1. I started reading Outlander, by Diana Gabaldon, back in 2004 or so. For a few months after I started reading the books, no one could speak to me because, well, because I wasn't there anymore. I'd been transported to 1743 and had no intentions of coming back anytime soon. Gabaldon's ingenious use of the mythical standing stones of Scotland was a perfect gateway through the centuries, and somehow it was all incredibly real. Diana Gabaldon is my idol, and the reason I started writing.
2. Susanna Kearsley's books are poetry to me. They include less grit — she doesn't have to deal with Culloden, etc. — but no less quality regarding the incredible amount of research she's put into the books. The protagonist is always someone with whom I can relate. I think my favorite book of hers (but it's really hard to choose) is The Winter Sea. The main figure in the book, Carrie McClelland, is a bestselling author writing about the spring of 1708 and the exiled James Stewart's near return to Scotland. At one point she describes what it's like to sink into an author's trance, and I didn't know whether to bawl or laugh because it was so real. I became a fan for life in that one paragraph. 
3 Deborah Harkness' All Souls Trilogy gets my next vote. Discovery of Witches isn't exactly historical (though yummy Matthew is), but Shadow of Night brings us to Elizabethan London, and every grimy detail is terrifically set out. Because Matthew has lived in both times, their relationship is modern, which is a different slant compared to the other two books I just mentioned in which the men see their romantic roles from an older angle. I really like seeing the different perspectives from contrasting time periods. 
4. Number four for me would be Karen Marie Moning's Highlander Series. I picked up every title of hers I could find and enjoyed every steamy moment. Her heroes are everything they should be: rough, sexy, gorgeous — but they always need the heroine to complete them. It'as all pretty straightforward, but Moning has a terrific voice and a convincing way of using it. 
5. But paranormal's not only about time travel. I recently read Miracle in New Hope by Kaki Warner, who usually writes straight western historical romances with unassuming, masculine men in starring roles. As usual with her books, by page three I was already emotionally hitched to her hero, and that was way before he even realized he was meant to be a hero. Her paranormal aspect was the ghost of a little girl determined to find closure and, in doing so, find love for her mourning mother. There was nothing eerie or frightening. It was simply a love story that came straight from the heart. 
Are you a fan of historicals with paranormal elements? Are you an Outlander fan for life? Let us know in the comments below! And don't forget to visit our Everything Romance page for more love stories through the ages.