Olivia Cunning On Why All Of Her Heroines Are Hot Tickets
Wed, 02/20/2013 - 10:48am — admin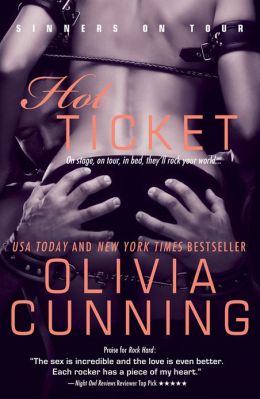 Olivia Cunning's Sinners on Tour series doesn't just feature hotter-than-hot heroes, but some role reversal as well. Rather than pairing her men with conventional rock star groupies, Cunning gives each of her leading fellas a challenge — namely a tough heroine who knows exactly what she wants and isn't afraid to go after it! This results in a sizzling series of books that will leave you flipping through the pages. Today the author introduces her full cast of characters, including dominatrix heroine Aggie from her latest release, Hot Ticket.
There seems to be a theme among the heroines in my Sinners on Tour series. Well, besides that they all fall in love with rock stars and have amazing sex lives. I didn't really start the series with this theme in mind, but as a career woman in a science field who raised a kid all by myself, I guess it makes sense that my heroines would be strong, independent, and not take any crap from their heroes. Besides, rock stars are constantly catered to by women. I didn't see them falling in love with one of their complacent groupies. A rock star needs a woman of substance. Someone who will stand up for herself. Someone who is strong. A woman who poses a bit of a challenge. And the heroines in this series definitely keep these five sexy rock stars on their toes.
The first book of the series, Backstage Pass, features the lead guitarist, Brian Sinclair. His heroine, Myrna, is a professor of human sexuality. There is a bit of a role reversal in this book. First, Myrna is older than Brian. She's also career oriented and has a strong, independent nature. She knows she doesn't need a man to take care of her. And due to an emotionally abusive ex-husband, she doesn't particularly want a man as a fixture in her life. She's doing just fine on her own. Second, Brian is the romantic of the pair. He falls head over heels almost instantly. Myrna is the one who resists the relationship and, at first, she is only interested in a physical relationship with Brian. She doesn't have an easy time admitting her feelings, but Brian spouts them constantly.
The second book of the series, Rock Hard, features the vocalist of Sinners, Sed Lionheart. He takes alpha male to a whole new level. He wants to protect everyone, fix everyone's problems and take care of business. He's boss and he knows it. His heroine, Jessica, is determined to be an independent career woman. She doesn't want Sed to fix her problems. She even breaks off their engagement when he pulls some macho bull on her. If he can't support her dreams of a career, then he can hit the road. These two constantly butt heads because they're both so busy being strong and independent that it takes them a while to figure out that they do need each other. Sed needs to let Jessica find her own way and Jessica needs to figure out that he's only trying to fix things because he cares.
The third book of the series, Hot Ticket, features the bassist, Jace Seymour. His heroine is a professional dominatrix. There are a lot of BDSM books out right now and the vast majority have the male in the dominate role. Jace isn't really a submissive, he just craves physical pain to help him bury an emotionally tragic pass and the only women who give him what he needs are women in the profession. His heroine, Aggie, is tough as nails (she will kick a mugger's butt and make grown men cry in her dungeon), but she has a soft spot for Jace. She's always gone it alone in life and requires her independence to be happy. What's great about Jace is that he doesn't want her to change for him. He truly embraces who she is and she loves him for who he is as well.
The fourth book of the series, Wicked Beat, features the drummer, Eric Sticks. This book doesn't come out until August 2013, but I'll share a little about the heroine, because she's also part of the role reversal theme in the series. Rebekah is a mechanic. Or she was. She only likes to work on classic cars, so the job market wasn't there. Her new ambition is to become a sound board operator for a metal band. Both are male dominated careers, but Rebekah has always been a tomboy. Probably a good thing, because Eric has a sense of humor that most women would find a bit crude, but she thinks he's hilarious. A woman who fixes classic cars, loves music, laughs at crude jokes, and thinks Eric is the sexiest man in existence? Yeah, Sinners' drummer doesn't quite know what hit him. But he likes it.
The fifth book of the series, Double Time, features Sinners' rhythm guitarist, Trey Mills. His heroine, Reagan, is a talented metal guitarist. There have been some amazing, female rock guitarists — Nancy Wilson, Lita Ford, Joan Jett, and Jennifer Batten come to mind — but they are definitely the exception, not the rule. So here we have another heroine who isn't in your typical female role. She even feels some pressure to use her feminine sexuality to increase her popularity in the music world. It really bothers her that she's seen as a woman first and a guitarist second. She wants to be known for her music, not her boobs.
The lady Sinners might not be your typical heroines, but their heroes aren't your typical men either. It takes a strong woman to hold on to a rock star.
- Olivia Cunning
You can grab the latest Sinners on Tour book, Hot Ticket, available in stores now. For more genre news and coverage check out our Everything Erotia Page.