Once Upon A Romantic Times: "The Misadventures of Fern Michaels"
Wed, 12/18/2013 - 11:13am — admin
Editor's Note: This article was originally published in the1983 Holiday #13 issue of Romantic Times.
***

Fern Michaels was born on a dark night with the creation of our first novel, a delicious tale of a wild and willful young lady racing across the English moors in her underwear pursued by a black-eyed man who was subjected to black fits of rage when he rode his black stallion that was as black as his mood and eyes … it was rejected.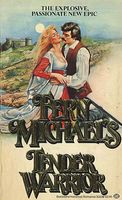 So, in their own words with characteristic good humor, do Mary Kuczkir and Roberta Anderson depict the birth of bestselling novelist Fern Michaels. For the past nine years, Kuczkir and Anderson have pooled their energies, talents and imaginations to write 18 books, all of which have been successfully published under their carefully chosen pen name ("Fern" for the plastic tree in Mary Kuczkir's living room; "Michaels" after her husband and son).
Fern Michaels has come a long way since that first gothic romance that "had everything going for it … except a publisher's approval." Four of the team's books — Captive Passions, Captive Embraces, Captive Splendor and Captive Innocence — have appeared on The New York Times bestseller list. And with nearly five million copies of its various Fern Michaels titles in print, Ballantine Books publishes their latest, Cinders to Satin, in January, 1984.
In Tender Warrior the hero is none less than El Cid — medieval Spain's fiercest warrior and, it turns out, her most avid and artful lover. The object of his passion is the beautiful Moslem princess Mirjan, an iron-willed woman who refuses to accept her arranged marriage to a bestial pagan and begs El Cid to save her. The two lovers overcome treacherous schemes and obstacles to find happiness in each other's arms.
How did two New Jersey housewives work their way into the business of writing such steamy, passionate novels?
In the fall of 1972, after nearly 20 years of changing diapers, mediating fights and coping with seven children between them, Kuczkir and Anderson decided to make their bid for independence. The two women met for the first time in a strange lady's bathroom, where, as market researchers, they were to test a new type of pressurized drain cleaner. After five minutes on the job, they totaled the entire bathroom … pipes burst, tile flew off the wall, three rooms were flooded.
Assuring themselves that Rome was not built in a day, the two tried their hand at other jobs. They catered children's parties; trimmed Christmas trees; painted house numbers on curbs; worked in the school lunchroom. Finally, nearly a year later, they found themselves paired off for a survey in a local drugstore. When business was slow, they turned to the store's book rack, crammed full of romances, to wile away the time.
Sixteen trembling heroines and twenty-two smoldering-eyed heroes later, Kuczkir and Anderson decided that they could do better; they quit their jobs to give writing a try.
While they are delighted with their literary success, Kuczkir and Anderson feel that they are not all that different today than when they were cleaning drains ten years ago. They are still wives, mothers (Mary is a grandmother), cooks, nurses, gardeners and chauffeurs. They are ever quick to point out that they are "Mary and Roberta … Fern Michaels is what we do, not who we are."
Fern Michaels' secret for success? "We write for the woman who wants to read romance at three in the afternoon because she isn't sure it's going to walk through the door at six."
You can read more about how Fern Michaels got her start as an author in the February issue of RT. For more romance head over to our Everything Romance page!