From Page To Screen: Upcoming Film And TV Adaptations
Mon, 03/05/2012 - 11:25am — admin
Readers who also love to go to the movies or curl up in front of the TV have several reasons to cheer. Recently there has been a surplus of news about upcoming projects that will adapt favorite reads into movies and TV shows — and in some cases, the process will go in the opposite direction. Find out which of these adaptations are making our TBS (To Be Seen) List and find out which upcoming television series re-boots have us anxious for more news!
FILM ADAPTATIONS
Plans are moving forward for the upcoming film that is based on Erin Morgenstern's novel The Night Circus. The debut author captured readers' imagination with her fantasy tale about two magicians, Celia and Marco. They are fated to face off in an epic battle, but can't help the feelings that grow between them. The entire story takes place at the magical Le Cirque des Reves, where visitors are treated to delights that are almost beyond imagination. Moira Buffini is set to adapt the novel for the screen, her previous projects include Jane Eyre, Tamara Drewe and the forthcoming Byzantium. Fans of the movie Big Fish and author Sarah Addison Allen's work should be sure to investigate this flick when it comes out.
Richard Matheson's classic postapocalyptic novel I Am Legend tells the tale of a man trapped on Manhattan, fighting mutated zombies. A film version of this tale was released in 2007 starring Will Smith. Now Warner Brothers is looking to recapture magic with a second film, but we're wondering how they will do this. Our fingers are crossed that the studio opt to make a prequel rather than go the much more dangerous rout of a sequel as — SPOILER ALERT — Smith's character does not make it out alive in the 2007 movie.
And speaking of a returning cast, get ready to say hello again to beloved heroine Bridget Jones. First introduced in the 1998 novel by Helen Fielding, actress Renee Zellwegger brought the character to life in 2001 and 2004, playing opposite English charmers Hugh Grant and Colin Firth. However, now there's word that the three may be teaming up again for a series third, tentatively titled Bridget Jones's Baby. Hugh Grant's rep told Deadline.com, "Hugh is keen that Bridget Jones 3 happens, but Renee [Zellweger], Colin [Firth] and he all have some issue with the present script. They are hoping to help work them out." Hopefully, this means that we can expect to spend some more enjoyable hours with this lovable trio.
Another long-time favorite character, James Patterson's Alex Cross, will soon be making his screen return with a new face. Morgan Freeman previously brought the titular hero to life, but in the next installment, which adapts the sixteenth novel in the series, 2009's RT Top Pick rated I, Alex Cross, Tyler Perry will play the acclaimed psychologist/detective. Perry must face down the serial killer who murdered his wife, a madman who is one of the series' most notable evildoers. Matthew Fox will be acting the part. Thankfully, fans won't have too long to wait until they can see this adaptation, Summit Entertainment has just announced that the film will premier on October 26, 2012.
Anne Rice's vampires will also be making another appearance on the silver screen. Her previous adaptations, 1994's Interview with a Vampire is a fan favorite, while the 2002 movie Queen of the Damned, was not as warmly received. Queen of the Damned was a loose adaptation of books two and three in the series, so now the studio is working on bringing the fourth novel to theaters, 1993's Tale of the Body Thief. In the upcoming film vampire Lestat swaps bodies with a psychic, only to discover that the willful human doesn't want to go back to being mortal. And if that were not enough to make you want to buy your tickets today, producers Alex Kurtzman and Roberto Orci have signed on to work on the film. Although you may not know them by name, we're sure you know some of the projects that they've worked on, which include Fringe, Hawaii Five-O and the recent re-imagining of Star Trek.
Another supernatural story that will soon be on the big screen is the film adaptation of Beautiful Creatures by Kami Garcia and Margaret Stohl. The story introduces moviegoers to Ethan Wate, a popular teen who falls in love with the strange and otherworldly new girl, Lena Duchannes, after they develop a psychic connection. The movie is scheduled to open February 1, 2013. In order to meet this deadline, filming is expected to begin in April, with the cast and crew shooting in and around New Orleans. Thankfully, if this movie does well in theaters, we can expect to see a lot more "Creatures" on screen soon, all three of Garcia and Stohl's books have been purchased for adaptation.
Read The RT-Exclusive Interview With Kami Garcia >>
Markus Zusak's 2006 historical young adult novel, The Book Thief, is on its way to becoming a movie. The tale, which is narrated by Death, follows a foster girl named Liesel who survives during WWII by stealing books. Over the course of the war she learns to read and shares her stolen books with friends and neighbors — including the Jewish man hiding in her home. It is an award-winning novel, so we weren't surprised to learn that there were several names attached to the project, including producer Karen Rosenfelt (of the Twilight saga), adaptor Michael Petroni (Chronicles of Narnia: The Voyage of the Dawn Treader) and now, Brian Percival (Downtown Abbey) is set to direct. The only question left is which young actors will be tapped to play Lisel and co.?
Meanwhile, thriller fans can look forward to seeing a much more recent war come to the big screen as Vince Flynn's American Assassin is adapted, with the help of CBS Films. The recently launched company is hoping that this movie will be the first in a franchise of Flynn films. Although the first movie is based on book 11 in the series, it offers invaluable insight into how hero Mitch Rapp made the journey from scholar to CIA agent. Jeffrey Nachmanoff, of Traitor and The Day After Tomorrow, will direct. Many expressed surprise when they learned that the series which is not pro-war is set to come to theaters, however CBS Films prexy-CEO Amy Baer told Daily Variety, "I feel like we have the only postmodern franchise action thriller hero out there ... a product of a generation touched by terrorism." With this in mind, we are incredibly intrigued to see how the subject matter is tackled and who will be cast to bring the series to life.
NOVELIZATION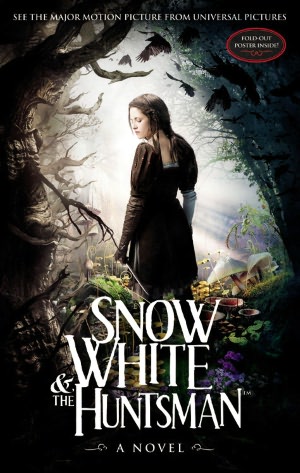 The upcoming film Snow White and the Huntsman (starring Kristen Stewart as the famed Snow White, Chris Hemsworth as The Huntsman and Charlize Theron as the Evil Queen) will be novelized. Lily Blake has been recently chosen to adapt the novel, which will be based on the original screenplay by John Lee Handcock, Hossein Amini and Evan Daugherty. The new version of the tale will be quite a bit different from the classic story of Snow White, in the 2012 story when the Evil Queen sends the Huntsman to kill the only one in the land fairer than her, the Huntsman instead decides to arm Snow White so she can duke it out with the queen herself. Thankfully, readers will be able to get their hands on the print version of this story soon — it comes out on April 17, several weeks earlier than the film does, which will hit screens on June 1.
FROM MANUSCRIPT TO MOVIE TO NOVEL
It's an interesting turn of events when a movie is sold ahead of a book's release, but in the case of "Demonologist", Universal studios snapped up the manuscript! Author Andrew Pyper's tale features a professor who studies Paradise Lost and embarks on a trip of a lifetime only to lose his daughter in the process when she becomes the target of a demonic spirit. Now this academic-minded must travel a dark path in hopes of recovering his little girl. Post the sale of the story's movie rights, Simon & Schuster won the bidding war for Pyper's upcoming novel. However, we don't mind admitting that this is a case where we may be a little bit more excited for the movie, because it's being produced by Robert Zemeckis' company, which was responsible for such films as Contact, What Lies Beneath, The House on Haunted Hill and Castaway. It seems like this will be a perfect fit as Zemeckis explores a new supernatural realm frought with danger and a hero struggling with his relationships.
TELEVISION ADAPTATIONS
English viewers aren't the only ones who have been bitten by the Sherlock Holmes re-boot bug. Sherlock, the BBC television show, is certainly a treat but we're also looking forward to the upcoming CBS series featuring the famous sleuth. Jonny Lee Miller will be playing the iconic mastermind in Elementary. But that's not all that has us excited, we've just learned that the indispensable Watson will be played by a woman — actress Lucy Liu!
Another upcoming "popular series with a twist" that we've been keeping you up to date about is the Sex and the City prequel that's slated to air on the CW at some point in the future. The show will be based on the same premise as Candace Bushnell's 2010 YA novel, The Carrie Diaries, and follow the young Carrie Bradshaw as she navigates the unfriendly waters of high school. However unlike the book, which takes place in Connecticut, the TV show will set Carrie's younger years in Manhattan. Actress AnnaSophia Robb will be taking the roll, fans may remember her from her parts in Bridge to Terabithia, Soul Surfer and Charlie and the Chocolate Factory.
Soon the NBC line-up is going to get a whole lot more scary. This season the channel took a turn for the darker with Grimm, but if you prefer to get your gore on without some supernatural help, you will be please to learn that Hannibal Lector is coming to the network. That's right, the famous cannibal named Hannibal will be gracing your TV screens. And if we're making light of this news, it's only because the concept of having this madman in hour homes for an hour each week has us positively terrified. Brian Fuller, who has previously worked on Pushing Daisies and Heroes will be in charge of bringing Thomas Harris' classic characters to the small screen. The television show will be focusing on the beginning of the relationship between Dr. Hannibal Lector and the FBI agent Will Graham. There is no word yet on who will reprise Anthony Hopkins' role for the NBC show.
Just a taste of what is to come, but has us super excited and join us next month when we update readers on the most exciting film and television projects in the works.