From Page To Screen: Upcoming Film And TV Adaptations
Wed, 04/24/2013 - 2:01pm — admin
Erotic romance to primetime? TLC, the network that brought us Honey Boo Boo, paving the way for a JFK remembrance? We're covering it all in this month's roundup of books that have hit the big time and caught Hollywood's attention.
***

They Can't Do That On Television!
…or can they? Word on the street — and Facebook — is that that Sylvia Day's Crossfire series may make its steamy way to the boob tube. There's no additional information yet as to who has optioned the erotic books, but that won't stop us from speculating about the project. Now, who can you imagine playing the manly Gideon Cross? Our fantasy casting picks include Hawaii Five-O's Alex O'Loughlin or the Vampire Diaries' Ian Somerhalder. Yum!
UPDATE: The author informed us that the option has been secured by Lionsgate, who has the option of going with either TV or film for the series, but right now is focused on TV for the project.
We Could Tell You About This Movie, but Then We'd Have to Kill You
Reviews about Elizabeth Wein's young adult novel Code Name Verity are both laudatory and vague. No one wants to be the one to spoil what the New York Times calls "a fiendishly plotted mind game of a novel." It should come as no surprise then that the details about the planned movie adaptation are also hush-hush. Here's what we do know: Film options for Code Name Verity, which focuses on the female friendship between two spies during World War II, now belong to Anonymous Content.
We're not even kidding. The management company's name that swooped up rights is actually Anonymous Content. That seems somehow appropriate, doesn't it?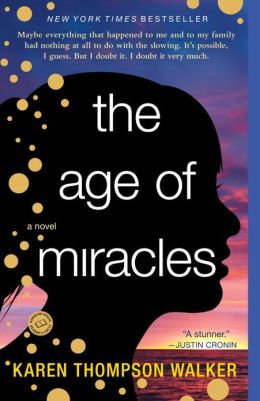 From Vampires to an Ordinary Girl in Extraordinary Times 
As if adolescence wasn't bad enough, imagine being a young girl going through changes just as the world is coming to an end. That's what Julia, the 10-year-old old protagonist of Karen Thompson Walker's The Age of Miracles, is facing. Those are the shoes that Catherine Hardwicke, director of the first Twilight film, must envision walking in as she brings this stunning debut novel to the big screen.
In Twilight, Hardwicke gave viewers a glimpse of a vampire "family" struggling to fit into a human world. In this story, we see a young girl who is just coming to terms with how the world turns as the earth inexplicably slows in its rotation. And we can't wait to see how Hardewicke interprets this bittersweet read.
There's No Place Like Home – Unless You're a Vietnam Vet
Considering HBO and Showtime's success with their original programming, Cinemax is stepping up its game by adapting Max Allan Collins' Quarry. Collins, author of the Road to Perdition graphic novel (which was later turned into a film starring Tom Hanks), wrote a series of books on a vet-turned-assassin that caught the premium cable channel's attention.
If it's picked up, the show will introduce the American public to Quarry, a former Marine. Upon his return from Vietnam, he finds a less than warm welcome from both his family and his country. With nowhere else to turn and falling back on the skills used in country, Quarry plies his killer-for-hire trade up and down the Mississippi River.
This would be the third original series for Cinemax, which just picked up a second season for Banshee and a third for Strike Back.
In Memory of JFK, 50 Years Later
TLC plans to make note of the assassination of President Kennedy by adapting the book Letters to Jackie: Condolences from a Grieving Nation into a two-hour film. Letters to Jackie chronicles the outpouring a support that the first lady received in the aftermath of her — and the nation's — tragedy. It demonstrates the strength and compassion exhibited by fellow countrymen in the wake of one of the most devastating periods in America's history.
A number of celebrities including Zooey Deschanel, Anne Hathaway, Laura Linney, Mark Ruffalo and Betty White will voice the letters.
When La Vita isn't so Dolce 
Todd Field, the Academy Award nominated filmmaker known for In the Bedroom and Little Children, is set to direct the movie version of Jess Walter's bestselling novel, Beautiful Ruins. The story follows the lives of three characters over the course of fifty years — following them from the sun-dappled Italian coast to the rainy shores of Edinburgh. Their lives cross in one moment, and the incident's reverberations carry on throughout the plot.
Put Away Those Cliff Notes, Kids 
There must be a royal decree somewhere that for each generation there will be a new adaptation of Romeo & Juliet. To the delight of students currently starring down their syllabus and facing the inevitable Shakespeare segment, help is on the way. If the 1996 Baz Luhrmann version, Romeo + Juliet, feels too over-the-top, then Julian Fellowes' take, he of Downton Abbey fame, should be more your cup of tea. It stars Hailee Steinfeld and Douglas Booth in the two most pivotal roles. Eagle-eyed teens will notice Ed Westwick, Gossip Girl's Chuck Bass, while the older crowd might recognize Damian Lewis who plays Homeland's Brody. Coincidentally, Lewis' love interest on Homeland is no other than Claire Danes, the 1996 Juliet.
Oh well, we're sure this rose of the same name will smell just as sweet. It'll just be DiCaprio-less. Check out the trailer below.
This is just a taste of what is to come, but has us super excited and join us next month when we update readers on the most exciting film and television projects in the works.