From Page To Screen: Upcoming Film And TV Adaptations
Tue, 07/02/2013 - 3:29pm — admin
Things are heating up in summer TV and movie news! New authors and classic writers battle it out for the most exciting news this month. From actress-turned-author Lauren Graham's latest screenwriting project to starlet Scarlett Johansson taking on her first directing role with Truman Capote's long-lost novel, there's plenty of big names to go around. But which one are we most excited about? We have all the latest details in this month's roundup of books that have captured Hollywood's attention.
Is there anything Lauren Graham can't do?
After becoming a New York Times bestseller with her debut novel, Someday, Someday, Maybe, Lauren Graham is trying her hand at screenwriting. The Parenthood/Gilmore Girls actress will be writing the adaptation of her book, which features Franny, an actress/waitress with big dreams. After giving herself three years to make it big or give her dreams of acting up completely, Franny is running out of time. Expectations are high to see if Graham can keep the series as fun and witty as her book.
Is It A Book Or A Movie?
Newcomer Victoria Aveyard has announced that Universal Pictures has optioned her novel Red Queen, the first book in a proposed novel trilogy. Red Queen is centered around a young girl who must assume the role the long-lost princess while secretly working for the revolution in a world divided by the color of blood. Aveyard first pitched the idea as a movie at the USC Pitchfest after graduating from USC's undergraduate screenwriting program. It was suggested that she turn this idea into a book, which turned out to be a great idea. When Aveyard finished her manuscript she was offered a lucrative book deal and the original idea has come full circle as it finds its way back to the big screen.
Are You A Good Witch or a Bad Witch?
Fairy tale lovers can rejoice a new adaptation is coming to theaters. In Soman Chainani's novel, The School For Good and Evil, children are kidnapped and sent to a school that trains them to become fairy tale heroes, villains, princesses or witches. This quirky take on fairy tale characters is hitting the big screen. Universal Pictures has announced plans for the movie as the book just debuted as #7 on the NYT Bestseller list.
"There is very little peace for a man with a body buried in his backyard."
Stanley Weiser, the writer behind such films as Wall Street and W., has optioned the novel Three Graves Full by Jamie Mason. The debut author's work weaves the story of Jason, a seemingly mild mannered guy, who is very paranoid of anyone finding out that he has the dead body of the man he killed buried in his yard. When two other bodies are found in his yard his sanity is threatened. This book is a thrill with a very clever plot it should make for an exciting movie.
Missing Truman Capote Book Tempts Scarlett Johansson Into Directing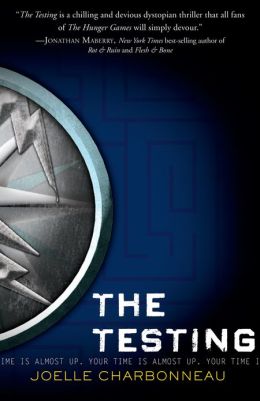 Actress Scarlett Johansson fell in love with Truman Capote's first novel, Summer Crossing, and is set to direct the story when it is adapted for the big screen. The novel was thrown away by Capote, but saved from the trash by his apartment's janitor. The work was finally made public in 2004 when sold at auction. The book features a 17-year-old debutante who chooses to spend the summer of 1945 pursuing a romance with a Jewish parking valet instead of joining her parents in their Parisian travels. As a heat wave hits the city so does the romance. Johansson has said, "Summer Crossing, an inspired early work of Truman's which has long captured my heart, being able to bring this story to the screen as my full-length directorial debut is a life dream and deep privilege."
In YA News ...
The wildly popular dystopian novel The Testing, by Joelle Charbonneau, is heading for the big screen. Paramount has acquired the rights to story. In a rebuild United States the high school students who show the most promise are but through a series of physical and mental tests to determine the future leaders, known as The Testing. When 16-year-old Malencia Vale is chosen she is excited until her father tells her of his nightmarish memories of The Testing. Cia is told to, "trust no one," as her starts out on her new adventure.
Drum Roll Please … The Biggest News Of The Month Goes To Diana Gabaldon
Diana Gabaldon recently announced double good news ... Starz is bringing Outlander to television and a new book in the series is in the works! The TV series will have sixteen episodes and be based on the bestselling book, which is famous for combining fantasy, romance, adventure and time travel. In case you have been living under a rock, with your eyes closed, your fingers in your ears while humming I will let you know that the book is about Claire, a nurse who finds herself transported back in time where she meets and marries Jamie, a young Scottish warrior. Filming will begin this October in Scotland and the question on everyone's mind is who will play the sweet yet sexy Jamie? In publishing news, a new addition will be added the the series this fall.
This is just a taste of what is to come, but has us super excited and join us next month when we update readers on the most exciting film and television projects in the works. In the meantime, you can click here for even more TV and movie news.