From Page To Screen: Upcoming Film And TV Adaptations
Tue, 11/27/2012 - 3:45pm — admin
It has been a busy month in Hollywood and studios have been releasing news for a slew of adult, teen and children's books that have been purchased for adaptation. Today we report on some noteworthy projects including details on Diana Gabaldon's bestselling Outlander TV series, mystery author Jo Nesbo's two projects and Disney's fun take on a popular children's book. Plus, we get very excited about an upcoming sci fi tale that is headed to the screen before the source material is even published! Read on to learn more about the book-related TV and movie deals that have us ready to curl up on our couches and head to our local theatres.
HISTORICAL ROMANCE
Twenty years after the first book's release, Diana Gabaldon's bestselling Outlander series is headed to TV after a recent deal made with Sony (we first reported on this story here)! And we have a feeling it will be worth the wait, because the executive producer of Battlestar Galactica, Ron Moore, has signed on to write the adaptation for Starz. An eclectic series that transcends genres, mixing fantasy, time travel, romance and adventure, the story follows WWII nurse Claire as she finds herself whisked away to 1743, where she meets Scottish warrior Jamie and finds herself caught between not only two eras, but two men as well. 
It was just announced that Lionsgate is taking on the film adaptation of Amor Towles' 2011 historical tale Rules of Civility, which tells the story of Katey Kontent, a young woman in 1930s New York City who gets swept up in the high society politics of Manhattan after meeting an intriguing banker. We're interested in seeing how Depression-era New York will be depicted on the big screen, and even more excited to see who gets cast as Katey, perhaps Carey Mulligan or Ellen Page? You can read more about this deal and hear what Lionsgate's president has to say about the project here.
MYSTERY
Jo Nesbo has established himself as one of the top Scandinavian mystery authors, and although him upcoming novel The Son isn't scheduled to release until 2014, the book has already been snatched up for a film adaptation. Nesbo will be an executive producer of the film, which will follow a young man who learns that his father was an honest man who committed suicide after he's accused of being a corrupt cop. Determined to avenge his father's death, he finds himself in some trouble of his own.
But that's not all that Nesbo has on his plate! She's hitting both the big screen and the small screen. The author has taken on the roll as a writer for the upcoming television drama I Am Victor, which will air on NBC. The series' protagonist is being described as "House as a divorce attorney." We thought hospitals had a heavy dose of drama and can't imagine what the world of divorce law has in store for viewers! And here's hoping Nesbo adds a touch of mystery and intrigue to the series.
In the mood for more thrills? Then you are in luck because Warner Bros studios will be bringing new life to Mickey Spillane's hard-boiled crime fiction series featuring P.I. Mike Hammer, a character James Bond creator Ian Fleming says influenced his infamous spy. Reminiscent of Lee Child's notorious Jack Reacher, there's no word on who will be playing the hard-hitting detective in the upcoming film adaptation. Filmmakers also need to choose one of the thirteen Hammer novels and decided whether the story will be set in the 1940s or will get a contemporary makeover. Spillane's co-writer Max Allan Collins is said to be one of the film's executive producers, so no matter what decade the film takes place, we have a feeling the film version of Hammer will ring true to the original. 
YOUNG ADULT & CHILDREN'S BOOKS
Get ready for a film version of the beloved children's books, Alexander and the Terrible, Horrible, No Good, Very Bad Day by Judith Viorst. Disney will be transforming this classic picture book into an entertaining, humorous story for the silver screen. Young boy Alexander wakes up realizing that he fell asleep with chewing gum in his hair, and his day progressively gets worse! Actor Steve Carell has joined the project, playing the role of Alexander's father.
And for a bit older audience, MTV is planning on bringing Gwenda Bond's YA mystery Blackwood to life on the small screen. Based on Bond's book that released this past September, a television adaptation is currently in development. The story focuses on a 19-year-old girl who, after learning that several people in her town (including her father) have mysteriously disappeared, vows to uncover the truth behind the eerie massive vanishing. Joined by her high school sweetheart, the two learn that this mystery is linked to America's first mystery: a missing group of people known as The Lost Colony. With elements of history, mystery and the slightly supernatural, this sounds like a must-watch for viewers!
SCIENCE FICTION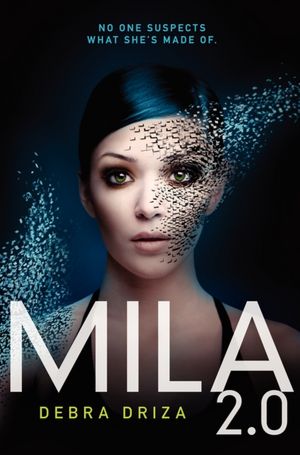 The creator of popular ABC favorites such as Grey's Anatomy and Private Practice is taking on a different kind of project: MILA 2.0, based on the upcoming debut novel of the same name by Debra Driza. This story features a young woman who learns what she's an android with human emotions designed as part of a secret government experiment — by her own scientist mother! If you're a fan of the Bourne Identity franchise or Dollhouse, you'll definitely want to check out this show. And you can expect the book to be released in March 2013. 
MEMOIR
When three twenty-somethings decide to abandon their Manhattan media careers, their boyfriends, and their lives in favor of a global adventure, the last thing they expected was a book-turned-TV adaptation of their journey! The Lost Girls by Jennifer Baggett, Holly Corbett and Amanda Pressner is a travel memoir published in 2010 that is slated to be transformed into a television show by CBS. The trio documented their journey across four continents and more than a dozen different countries. To learn more about the adaptation, which sounds like a young, hip version of Eat, Pray, Love, click here.
This is just a taste of what is to come, but has us super excited and join us next month when we update readers on the most exciting film and television projects in the works.