Painful Pasts Bring Happy Endings In Stephanie Julian's No Reservations
Wed, 09/04/2013 - 11:32am — admin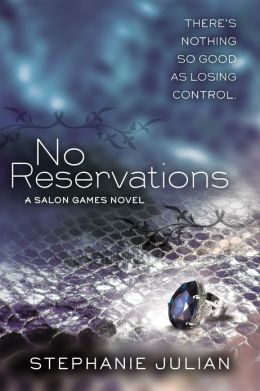 The hero and heroine of Stephanie Julian's latest Salon Games novel, No Reservations, both have big decisions to make regarding other lovers. Hero Tyler is still healing after the death of his fiancée, while heroine Kate is engaged to man she isn't quite about. With both characters facing some big decisions regarding their pasts — and their futures — we asked the author to share how these fiancée/fiancé troubles helped bring Tyler and Kate together.
In No Reservations, Salon Games book two, Tyler Golden seems to have a perfect life.
He co-owns a successful boutique hotel in Philadelphia. He's handsome, rich and in charge of his own life.
The only problem — he doesn't have much of a private life and we all know that all work and no play makes Tyler a dull boy.
Well, maybe not dull, but definitely not much fun. Tyler would agree, but he'd tell you he has a damn good reason. He's still grieving the death of his fiancée. Then he meets Kate and his walls begin to crumble. Unfortunately, Kate has a fiancé of her own and a painful loss in her past that has come to define her life.
Tyler's fiancée was young. They had their whole lives ahead of them and, when that was taken away, Tyler was thrown off balance. He'd always been stable, in control. And when he loses that control, well, that's when things get interesting.
Kate's mother's death just before her college graduation froze Kate in her tracks. Instead of heading for New York City to become a costume designer, she agreed to marry the sweet guy who loves her, to stay in her hometown. She uses her skills as a seamstress at the local tailor and her creativity has found a way to express itself through her wedding gown and lingerie designs. But she's stagnating and she knows it.
When Kate met Tyler in By Private Invitation, Salon Games book one, she recognized that the sparks between them were something special. But she was engaged to a nice guy. A safe guy. A little too safe, as it turned out. She figured that out by the end of the book and, as No Reservations begins, she's ready to inch forward with her life. Luckily, so is Tyler.
However, neither of them realizes just how much those losses have changed them.
Tyler has always been all about control, from his business life to his sex life. His former fiancée knew about his tendencies toward dominance but he always managed to rein them in for her. He's finding that hard to do with Kate. She brings out his inner caveman and he's not sure that's a good thing.
As Tyler battles his darker instincts, Kate discovers she enjoys exploring her sexual limits. And Tyler's. She likes making him lose that rigid control with her newfound confidence.
While Kate is more than willing to push her sexual boundaries, it's the emotional ones that trip her up. Her mom's death has made her much less willing to give her heart.
But Kate finds it hard to refuse the man who wants everything from her, the man who offers so much more in return.
- Stephanie Julian
Are you a fan of heroes with troubled pasts? Let us know in the comments! And be sure to pick up a copy of No Reservations, available now. For more steamy stories visit our Everything Erotica Page.