Pamela Callow on her heroine Kate Lange - With Giveaway!
Tue, 12/28/2010 - 5:07pm — admin
Author Pamela Callow stops by to chat about her heroine Kate Lange and the second mystery in the Kate Lange thriller series, Indefensible. Callow shares how lawyer Kate uses all her resources to try to keep a desperate single father out of jail. And don't miss your chance to check out an excerpt of Indefensible and enter to win your own copy of the new mystery at the end of this post!

If you enjoy reading thrillers, you probably are fascinated with stories about crime. I know I am. I've often wondered what it would be like to face a killer. Or what it must feel like to be wrongfully charged with committing a crime.

The human stories behind the headline crimes inspire the plots for my legal thriller series for MIRA Books. In fact, June's Damaged, the debut novel of my series, was based on a US criminal case. I used the case as a foundation for a suspense plot in which lawyer Kate Lange unearths a legal conspiracy -- and finds out how far she will go to stop a serial killer.

Indefensible, the second book of the Kate Lange thriller series, examines murder from the opposite end of the spectrum. Inspired by recent cases of wrongful imprisonment, I wondered how a successful and powerful man such as Randall Barrett, the managing partner of Kate's firm, would deal with being accused of a horrible crime. How would he handle being stripped of his status, his reputation, his profession – everything on which he based his personal identity?

And how would Kate, who is dealing with the psychological aftermath of killing a serial killer four months previously in Damaged, be able to defend him?

Kate is a single, thirty-something lawyer who has discovered her dream job in a high-powered law firm isn't what it was cracked up to be. She has known her share of heartbreak, lives in a fixer upper with leaky plumbing, and has a rescue dog who leaves shredded magazines in his wake. She is, in sum, an ordinary woman – and a junior lawyer who practices civil litigation and family law. How, then, can she defend a man who even the partners in her firm think is guilty of murder?

The facts are damning.

And yet facts are often interpreted by context, and context can be created through perception – so how does one really know the truth?

In Indefensible, Kate must grapple with these questions as she takes on a defense of a desperate man who has put his future in her hands.

And it is not just his future. The death of his ex-wife leaves Randall with custody of his two teenage children, Nick and Lucy. The impact of their father's murder charge is profound -- and near tragic. It creates even more pressure on Kate to ensure that the killer of Nick's and Lucy's mother killer is brought to justice. And yet, she doesn't practice criminal law. This dilemma intrigued me, as my legal background was in contract and corporate law. Criminal law is an entirely different beast. It was not plausible or feasible for Kate to manage Randall's case on her own.

Thus, I created the character of Eddie Bent, Randall's old law school buddy. Eddie is a criminal defense lawyer, whose brilliant career was brought to an abrupt halt by his battle with alcoholism. Now sober but unable to get his career back on track, Eddie provides Kate with the advice – not all of it appreciated – to fight a case that not even she is sure she believes in. I, personally, love Eddie's character – a brilliant lawyer who, despite his intellect, cannot control his addictions. An all-too-human man who shows Kate there is always another side to the story.

However, no one realizes that while Randall is in jail fighting for his future, there is a silent predator waiting to take advantage of his powerlessness -- and deal the final blow to his family.

I hope you will enjoy the second book in the Kate Lange thriller series. Kate is a character I love to write: a survivor who must rely on her wits, courage and her belief in ensuring that justice will prevail.

I am currently working on the next Kate Lange novel, Tattooed (January 2012) where, as the title suggests, Kate becomes involved in a cold case that involves a tattoo artist she knew many years ago.

Kate Lange. Lawyer. Runner. Devoted dog owner. Survivor. ... And a magnet for trouble.  

To celebrate the release of Indefensible, I'm giving away a signed copy of Indefensible to a random winner drawn from all those who leave a comment on this guest blog post!

- Pamela Callow
You can read an EXCERPT of Kate's latest adventure, and then enter to win your copy of Indefensible, which hits shelves today.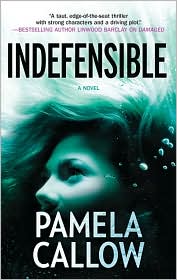 GIVEAWAY ALERT: One lucky winner will receive a signed copy of Pamela Callow's Indefensible. To enter leave a comment below about what you would do if you were in Kate's shoes! Or email you comment here with your US mailing address and the subject line "Pamela Callow's Indefensible Giveaway." The winner will be announced on January 6th.
BLOG UPDATE 1/7/11: And the winner is ... Chris Stack!