Paranormal Authors Collaborate For Breast Cancer Research
Fri, 09/09/2011 - 2:25pm — admin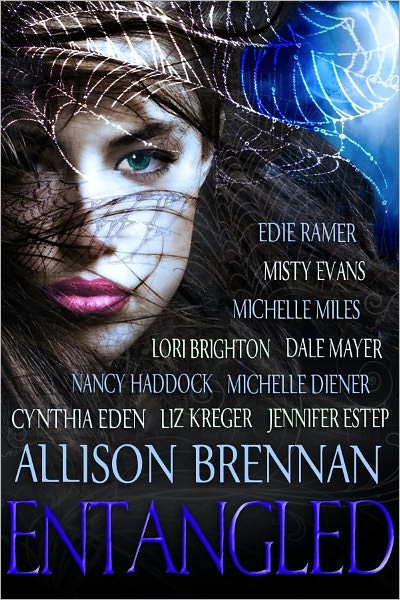 Check out eleven creepy crawl-y evil creatures and support the fight against breast cancer while you read — here's how: download your own copy of Entangled, the paranormal e-anthology that hit stores this morning. Entangled is a collaboration by Authors4thecure, eleven authors including two New York Times bestsellers and two breast cancer survivors, who are all dedicated to helping end this disease. Proceeds from Entangled will be donated to the Breast Cancer Research Foundation!
***
Why was it important to you to contribute to this anthology?
Liz Kreger: As a breast cancer survivor, I have a personal stake in a cure being found ... whether it's a cure for breast cancer, or any other cancer. With grants being continuously cut, it's important that research into finding a cure continue. Science has made so many breakthroughs in the past few years that an actual cure could be just around the corner. I felt this was an opportunity to give something back using my own unique talents. 
Lori Brighton: The best thing about self-publishing is having the freedom to write for charity. Like most people, I've lost family to cancer, an aunt, a grandfather and grandmother. My short story was written in honor of those strong individuals who have valiantly fought cancer and those who have supported a loved one through the disease.
Michelle Diener: I was so honored to be invited to contribute to this anthology. I write historical fiction, but jumped into the world of paranormal fiction with glee for such a good cause. One of my critique partners, Liz Kreger, who has also contributed to this anthology, is still fighting cancer, and her strength and courage are a constant inspiration to me. My grandfather, my mother-in-law and my aunt died of cancer, and any small part I can play in helping to find a cure for this disease is something I'm proud to do.
Misty Evans: In my teens, I lost a dear aunt to breast cancer and I recently had a childhood friend go through a double mastectomy. It's terrible to watch such strong women have to deal with such a terrible disease. While working in public health, I managed a breast and cervical cancer screening program for uninsured women, and I'm still a strong advocate of early screening and self-breast exams. Supporting the Breast Cancer Research Foundation with my writing was the perfect outlet for me.
Edie Ramer: I'm a breast cancer survivor. The diagnosis shocked me. I was fairly young and doing everything right—diet, exercise, weight. Breast cancer didn't run in my family. Now I know it can happen to anyone. One of my best friends has been fighting breast cancer for years, another reason I'm grateful to be involved in the anthology. I want to be part of the cure, and I want it to happen soon.
What is an element from your paranormal short story that you loved writing about?
Allison Brennan: I have never been a fan of vampires as heroes, so I was thrilled to write a bad vampire story! This is my take on the vampire myth--a cabal of wannabe vampires seek immortality through blood sacrifice. But I also really liked the ghost in my story, and helping her find peace and justice.
Jennifer Estep: "Halloween Frost" is set in the world of my Mythos Academy young adult urban fantasy series. It was just fun to write a story that involved my YA characters, Halloween, trick or treating, and a mythological monster.
Nancy Haddock: Ghosts! I love ghost stories, and have up-close and personal experience with spooks. The psychology of hauntings is particularly fascinating to me, so playing with that aspect was fun. Plus I had a blast putting a twist on a legendary haunting that took place in St. Augustine.
What is the next project you are working on in 140 characters or fewer?
Cynthia Eden: I'm working on a Fallen Angels of Death series for Kensington Brava. My angels are dark, dangerous, and they can kill with a touch. 
Dale Mayer: I'm working on Vampire in Distress, Book II of Family Ties and readying Hide'n Go Seek, the sequel to Tuesday's Child for its Sept. release.
Michelle Miles: I'm currently editing my historical/paranormal, One Knight Only, coming soon from Ellora's Cave.
For more from these eleven excellent authors — and to support the fight against breast cancer — you can download your own copy of Entangled today!