Paula Quinn And Her Arthurian-Inspired Historical Hero - With Giveaway!
Tue, 08/31/2010 - 11:26am — admin
Historical author Paula Quinn talks about her Arthurian inspiration for the Scottish hero of Seduced By a Highlander. Learn how this hero's struggle for honor touched the author's heart. And don't miss the excerpt and the GIVEAWAY at the end of this post!
People ask me all the time where my heroes come from. Tristan MacGregor, the hero from my newest book Seduced By a Highlander, was inspired by my favorite knight in shining armor, Tristan de Lyones from the legend of Tristan and Iseult. 
Like some of the characters from my books, I grew up reading tales of Arthur Pendragon and his Knights of the Round Table. When I began writing, I wanted to create men like Lancelot du Lac, Gawain, and Tristan de Lyones. Men who held honor in the highest regard, who would fight for what they believed no matter what the cost. Heroes who strove day after day, choice after choice to be good men, despite their imperfections. To date, I've written six heroes, all of whom possess the traits I admire. But none of them struggled with their own limitations on a daily basis to become what was better, purer, not just for them, but for others around them. The embodiment of true chivalry. My heroes were already honorable men. They didn't need to strive for it.
After a while, I began to think my vision of one of these legendary knights might never appear in my books. Who wanted to read four hundred pages about a perfect Sir Galahad? But not all knights were perfect, and Sir Tristan de Lyones was proof.
In the classic romance tragedy, Tristan and Iseult, written in the 12th century, Sir Tristan is forced to betray his king because of his love for Iseult. And while betrayal is never honorable, it is his conflict, his sorrow over what he has become and the daily battle to restore his honor that makes him one of the most compelling knights of Arthurian legend. He was not faultless as was Galahad or Percival, but it's the effort to achieve perfection that makes a man a true hero.
In my newest installment of The Children of the Mist series, Seduced By a Highlander, I discovered my knight in rusty armor. When a choice he makes as a child results in the death of his beloved uncle Robert, Tristan MacGregor embarks upon a different path than the one his noble uncle had shown him. Refusing to conform to the Highland code of pride and vengeance that his family follows, he becomes the prodigal son. But there is more to Tristan than clever wit and a charming smile. He is more complex than any carefree rogue before him, for hidden somewhere deep within his heart are the ancient ideals taught to him by a man who lived and breathed honor. 
When Tristan meets Isobel Fergusson, daughter of his clan's worst enemy he knows he should despise her as she does him. But every moment in her company reminds him of the man he'd forgotten. The man he had once wanted to be. But how does a notorious rogue find honor with the woman whose father killed his uncle? And even if he can achieve it, how can he win Isobel's favor without betraying his kin? And so begins the struggle, that noble effort to regain what he has lost. It's not going to be easy, but what quest for honor ever is? 
- Paula Quinn
Giveaway Alert: Three lucky winners will receive copies of Paula Quinn's Seduced By a Highlander. To enter, leave a comment on this blog post about why you love highlanders or e-mail here with your comment, mailing address, and the subject line "Paula Quinn's Seduced By a Highlander Giveaway." One entry per person, please. The contest winners will be revealed on September 8th.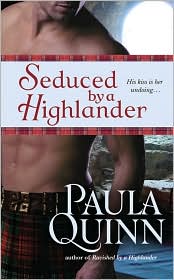 UPDATE 9/20/2010: And The Winners Are ... Kathy Sweet, TabbyLewis and Ruth27!