Peggy Webb Re-Releases Her Bantam Loveswept Romances — With Free E-Book!
Thu, 12/15/2011 - 2:40pm — admin
Beloved author Peggy Webb has been penning tales of love and laughter since the mid 1980s, when she began her writing career with romantic comedies The Taming of Maggie and Birds of a Feather. Since that time she's published almost seventy tales. And now the author is re-releasing the Bantam Loveswept stories that made her a household name.
These days, her new stories feature mystery and mayhem — with her Southern Cousin mystery series. (The series started in 2008 and she just published book number four Elvis and the Tropical Trouble.) However, one could never accuse Webb of resting on her laurels; earlier this year she adopted the pen name Anna Michaels to publish this May's mainstream novel The Tender Mercy of Roses. And now, thanks to the rise of e-books (and the incredible ease of self-publishing) the author is also able to re-release the Loveswepts of the 1980s and 90s as e-reads.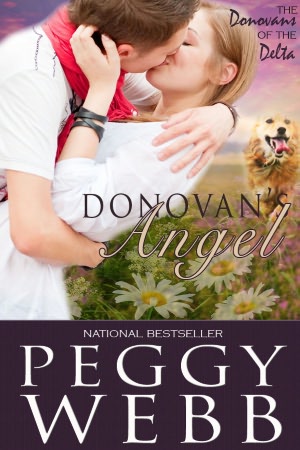 If you are wondering if the stories are able to stand the test of time, we offer this piece of evidence: Touched by Angels was nominated for an RT Reviewers' Choice Award in 1992 for Best Loveswept of the year and since the book's digital re-release, both that story and its sequel, A Prince for Jenny, have made the top ten in Amazon's list of the Kindle store's bestsellers.
Webb has already made ten of her classic Loveswept stories available as e-books and she is continuing to grow the list. This month, the industrious author has self-re-e-published (and isn't that a mouthful?) her Donovans of the Delta series. The five stories include Donovan's Angel, Sleepless Nights, Hallie's Destiny, Any Thursday and Higher than Eagles. The books in the Donovan series were all originally released in the late 1980s, so it is exciting that fans now get digital copies of these fantastic tales. The author told us about these stories, "As I edited these books, I laughed aloud, cheered for the Donovan family and bawled like a baby at the endings. I'm thrilled to bring these romance classics back!"
But, that the books are available again is not the only news about the Donovans of the Delta series. The author is also offering the e-version of Donovan's Angel for free. Until December 31, you can email Peggy at authorpeggywebb@gmail.com for a coupon for a free download of Donovan's Angel at Smashwords!
To learn more about what's happening in the world of digital publishing check out our Everything E-Books Page and for more genre coverage be sure to stop by our Everything Romance Page!