Prom Ever After: Liz Czukas Dishes On Her Best and Worst Prom Memories
Thu, 03/13/2014 - 12:26pm — admin
Prom is as momentous to a high schooler as a winning an Oscar is for an actor. Seriously, it's a big deal. And one of the biggest deals with prom is finding a date. So when Liz Czukas's Ask Again Later popped up on our radar, we were instantly intrigued. After all, it's the story of a teen who has not one, but two potential prom dates. Today, Liz tells us some of her best and worst prom memories — but don't worry, there's a happy ending to her woes. Take it away, Liz!
I went to my first prom as a sophomore. My boyfriend was a senior at another school and I thought I was the business. It's all well and good to be the only sophomore at prom, but as it turns out you're also the only sophomore at prom. I didn't know anyone. Worse though, everyone knew my date. He had more than one ex-girlfriend in attendance. That's a quick way to shrink the ego, believe me.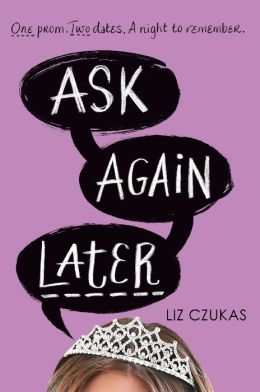 Being somewhat oblivious to the intricacies of Intergirl Diplomacy, my date had no idea why I was so uncomfortable when one of his exes asked him to play tennis at post-prom (we were at an athletic club). I was certain he'd come back and tell me to find a ride home with someone else. Oh the self-confidence of being 16. That was definitely the worst prom moment for me.
So you'd think when my junior prom came around the next year, it had to be better than that, right? Well, let me ask you this: did you buy your own corsage for prom? Because I did. "Liz," you're thinking, "there's no shame in going stag to your prom. Be a proud single girl!" And I would be, except that I had a date.
If you're wondering what kind of loser doesn't get his date a corsage for prom, it's the kind I was apparently really into, because it was the same guy. Yep, Mr. You-Wait-Here-While-I-Go-Play-a-Round-of-Singles-with-My-Ex. It's also worth noting that he was something of a professional prom date. By the time my prom rolled around, he'd already been to seven, yes, seven proms. To say that he no longer expected a magical night would be a bit of an understatement. Plus, he was in college by then.
The day of prom, instead of going to the salon to get a fancy updo like most of my classmates, I had to drive an hour-and-a-half to pick my date up from his university. By this time I'd already bought my corsage and a boutonnière for him, picked up a rented vest that matched my dress, and gone to his house to get the tux he'd left behind (because when you're a professional prom date, you don't rent, you own). Too bad we'd both forgotten to calculate how much bigger he'd get training for college level football. The tux jacket didn't fit anymore. Not even close.
We were the very last couple to arrive at prom, and they debated not letting us in at all. But I must have looked sufficiently pathetic in my hastily half-curled hair and wilting corsage and my date carrying his too-small jacket over one arm. They let us in.
Liz showing off her dress.

You'd think my night was destined for disaster, but in fact, I had a great time. There was no pressure after a start like that. And my boyfriend and I had been together long enough by then to find the whole thing funny. So what do you do when prom starts out a little on the pathetic side? You talk everyone at your table into ditching their forks and eating dinner with their fingers, obviously. At least, that's why I did. And if you tend to have red-eye in photographs, you just wear your sunglasses for your prom picture. The photographer told me I'd regret it, but I haven't yet.
Liz and her date — and their sunglasses
Prom is exactly what you make of it, so why not decide to have fun? And for the record, a few years later, I married the guy. I guess he wasn't that into tennis after all.
-Liz Czukas
Do you have any cringe and swoon-worthy prom memories? Share them in the comments below and be sure to pick up a copy of Ask Again Later, in stores or online, today! And for more YA authors and stories, do the electric slide on over to our Everything Young Adult Page!