Psychic Reading Giveaway: We Celebrate Jennifer Ryan's Chasing Morgan
Tue, 10/08/2013 - 1:28pm — admin
We don't know about you, but we've always loved the psychic-helps-hardened-detective-solve-crimes trope. What can we say? The mystical has always intrigued us, and we're feeling the spirits even more this October. Which is why we're super excited about Jennifer Ryan's latest book in her Hunted series, Chasing Morgan. It stars fact-loving FBI agent Tyler Reed and the beautiful blonde psychic who's saved his life, and helped him on multiple cases. But Morgan's gift comes at a price, and when she's forced out of hiding thanks to one of Tyler's cases, she's thrust right onto the path of a serial killer, the Psychic Slayer.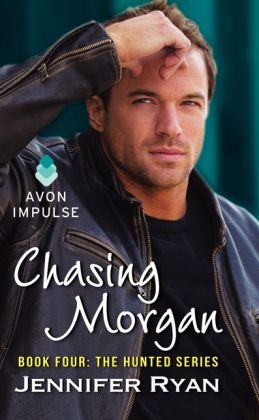 To celebrate tomorrow's release of Chasing Morgan, have we got a giveaway for you: a psychic reading! (We know, we're excited too.) We're teaming with Avon and giving away a 30 minute phone reading with psychic Cheryl Murphy. We asked Cheryl three questions to get a better idea of what her readings offer:
1. How do you conduct a reading over the phone? Is it hard to get a sense of a person if you can't see them?
Everything is Energy. Before the phone reading I will sit in a meditation and prepare myself for the reading. I open my auric field to let my guides know that  I am ready to communicate. When my client calls for the reading, I connect with the their voice over the phone. Their name also carries an energy frequency around it, a vibration. I make a heart to heart connection with them. This way I am receiving the information that is for highest good and ask for the answers that are most appropriate at this time.
2. What are the three most common questions you get? Are most people concerned with the same things?
The most common questions I am asked surround love, relationships and career. When asking about loved ones who have passed, I am asked if they on the other side are OK? Do they know they are missed loved? Do they have any messages? Another question I am asked is how can a person connect with their spirit guides.
3. What's one of your most memorable psychic experiences?
My most memorable medium experience is when I brought through this woman's husband who had recently passed from a long illness. When I connected with him, his energy was clear and vibrant and out of any discomfort. I validated his presence by telling her about the cigar he smoked when he was writing his books in his library. I told her about the clothing he wore and what fond memories he shared with her during their 12 year marriage. He was so happy to communicate with her through a medium and give many messages that he was OK on the other side. His message to her was one of love and gratitude. He wanted her to continue her writing and counseling career. He gave her messages about taking time for herself after giving so much around the clock care to him. He was sending her so much gratitude that she began to weep. He had left many signs around the house for her to know how much he loved her. She told me she found an old love letter in the top drawer of his desk that she thought was long gone. She told me this reading helped comfort her and reassured her that life continues.
***
Comment below with one question you'd ask during a reading for a chance to win a phone call with a psychic. U.S. residents only, please. Giveaway ends 10/15/2013 and a winner will be announced here. You can also e-mail your entry here with the subject "Psychic Giveaway." We can't wait to hear what the future holds for you! And don't forget to check out Chasing Morgan, available online tomorrow, and in paperback October 15.
UPDATE: The winner is Tina T.
For more out of the box love stories, visit our Everything Romance page.