Q&A With New Adult Author Liz Bankes On Her Debut Novel Irresistible
Thu, 02/14/2013 - 12:32pm — admin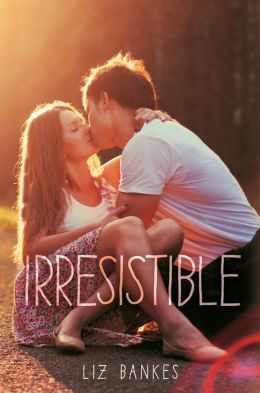 New adult author Liz Bankes' debut novel Irresistible releases today, and if you love a good dose of love triangle drama, you won't want to skip this one. Dubbed a "steamy," Irresistible follows college student Mia as she grows closer to fellow student Dan. But after taking a summer job at her local country club, Mia meets alluring, rich Jamie. Although she knows getting involved with Jamie is a terrible idea, Mia isn't sure she can resist his bad boy charm. We asked the author a few questions about her debut romance, her thoughts on the new adult genre and more.
***
Your story features a love triangle between college student Mia, fellow student Dan and rich kid Jamie. What are some of your favorite well-known love triangles, either in romance or general pop culture?
I could ramble on for ages here! I was very much involved in the Dawson/Joey/Pacey saga. Although that triangle is a bit one-sided (if a triangle can be one-sided … ) because no one is on Team Pacey unless they are INSANE. I am a huge fan of the Bridget Jones/Daniel Cleaver/Mark Darcy triangle, mainly because I work in publishing and am hoping one day that Hugh Grant and Colin Firth will fight over me. And I have to mention the triangle that inspired that one — Lizzie, Wickham and Darcy. Here, again, there really is no contest. Go for the one with the big house. (I am joking, of course. I would base my decision on who looks better in a wet shirt).   
Jamie is billed as a "bad boy," someone who appears to be spoiled and self-serving. Why is Mia so drawn to him?
One of the most attractive things about Jamie (to me, anyway!) is that he doesn't care. There is a sense of danger with people like that — the chance they could just go off the rails — and Mia finds that exciting, even though she knows she shouldn't. Jamie is also quite grumpy and sarcastic, which I've always been a fan of. It offers Mia the challenge to find out if he has a nicer side. 
But Mia isn't free to choose between Dan and Jamie, because Jamie is already involved with the beautiful Cleo. How does Mia plan to navigate this drama?
Well Mia would say she isn't planning to navigate it at all! Mia doesn't intend on falling for Jamie, and is very much in denial. Cleo makes things an awful lot more complicated because, rather than being hostile to Mia and warning her off, she befriends her. Cleo welcomes Mia into her group and gets Mia to confide in her. The result is that Mia feels horribly guilty about any encounters she has with Jamie. I didn't want things to be easy!
Irresistible is branded as 'New Adult'. What about this new genre is appealing to you as a writer?
It will seem obvious to say, but I think that 'new adult' captures that moment when everything is new. There are all those 'big things' to negotiate — falling in love, sex, what to do with your life — and you are having your first encounters with them. Being on the edge of the adult world is a point where everything is a bit uncertain, but at the same time anything could happen, and that's an exciting thought.
One thing that separates New Adult from Young Adult, aside from a few year's age difference for the characters, is the heat level. Your book is quite steamy. Is this something you feel works well for college-aged characters, as opposed to teenagers?
As I said before, I think that new adult reads capture first encounters. So in a romance you are dealing with sex being part of a relationship for the first time. For older teens, through to those at college, these are big decisions to discuss and think about. And I think it is important that in books they are dealt with in a way that acknowledges the significance of deciding what you want from a relationship.
Do you have any other projects in the works? What can readers expect from you next?
I am writing another book! It is not a sequel to Irresistible, and is a whole new story with different characters, but some familiar faces from Irresistible may put in an appearance…
You can get your copy of Irresistible, available digitally today! The print version hits shelves June 18. For more genre news and coverage, visit our Everything Young Adult Page.