Q&A: Sabrina Darby On Her Entry-Level Mistress
Mon, 02/25/2013 - 12:50pm — admin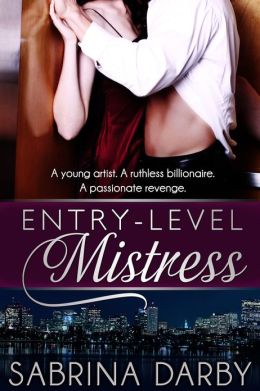 Author Sabrina Darby recently self-published her first contemporary romance, Entry-Level Mistress. This story has everything many genre fans crave: A young, beautiful heroine, a modern alpha hero and a heaping dose of sexual tension. Years ago billionaire Daniel Hartmann sent Emily Anderson's father to jail and she wants revenge. Purposefully becoming Daniel's newest employee, it isn't long before the two are spending their after-hours together. Even though Daniel knows that Emily has a hidden agenda, he is willing to take any risk to get closer to this gutsy lady. Since games, secrets and betrayals abound in this story, we went to the author in order to get to the bottom of this provocative read.

***
This story is written in first person from your heroine Emily's point of view. This is a bold choice considering that she has some major personal issues to work through. As a newly graduated student Emily is still trying to find her identity. How hard was it for you to climb into the mindset of this young ingénue? 
This was probably the easiest part of writing the book. It was so much fun getting back in touch with my early 20-something mentality.
Emily is a sculptor and while you work in a different medium, you are also an artist. Did you share some of your creative passion with your character?
Definitely. I thought it was very important that Emily perceive the world through the filter of her art, and that, as a young artist, she's searching for role models and inspiration. For me as a writer, I spent a long time seeing the world this way as well, constantly looking for role models and examples of how I should live my life.
Your hero, Daniel, is talented, generous, smart, successful and has movie star good looks. Who was your inspiration for him?
When I write I rarely focus on one particular man as an inspiration. I definitely draw from many didn't influences when trying to create a man who is intellectually and physically appealing. If I had to cast the movie of Entry-Level Mistress, likely Daniel would be played by someone tall, dark and handsome in the young George Clooney/Pierce Brosnan mode. Maybe an Ed Westwick as Chuck Bass in ten years could be a good Daniel.
For all of his great qualities, Daniel also has some skeletons in his closet (including the fact that he sent Emily's father to prison for fraud). While Emily has a difficult time forgetting this, Daniel seems to have no problem avoiding the issue. 
At 21, Daniel dealt with much of what Emily is currently going through and, having achieved his revenge, was able to continue on with some measure of peace in his life. I imagine that if Daniel had failed at getting revenge, this would be an entirely different story. Emily's actions bring the past back for everyone.
Emily spends a lot of time with Daniel (both in and out of bed), but she has a hard time labeling or categorizing what they have. Is she a way for him to get further revenge on her father? Or maybe she is his girlfriend? Or worse, his mistress. Despite this confusion, Emily can't seem to stop seeing Daniel and visa versa. To a certain extent would you say that this relationship is a little bit of an addiction for your characters?
Oh, definitely. They both are dangerous for the other and that danger makes the attraction that much greater.
The heat level for this story is very interesting. It's an incredibly sexy read, but without overly explicit scenes. It is almost like you were allowing the characters to keep the intimacy for themselves.
I've written some very erotic and explicit scenes before in On These Silken Sheets. But for this book, the moment I felt the emotional point of the sex scene was made, I backed out. I didn't want to show the entire play by play just for the sake of it. As much as I enjoy that in many books, it felt wrong for this one.
This is a self-published book, so you definitely feel strongly about getting Entry-Level Mistress to your readers. However, this contemporary is a bit of a departure from your usual Regency tales. What made you decide to tell Emily and Daniel's story? Will you be writing more modern-set books?
My first love is Regency romance. I grew up on historicals and came late to the world of contemporaries. Other than chick-lit like The Devil Wears Prada and Trading Up, my first contemporary was a Susan Elizabeth Phillips book in 2008. I wrote a version of Entry-Level Mistress in 2010 as a challenge to myself. I quickly fell in love with Emily because she has the overly analytical and self-reflective mind of someone who has grown up in the "reality TV"/everyone has fifteen minutes of fame era. Creativity is often helped by constraints, which I've learned through dealing with the social mores of Regency England. The modern world has its own entertaining constraints and I definitely intend to write more contemporary novels. In fact, there's a side character in Entry-Level Mistress whose story I've been dabbling in recently. 
We definitely have a guess to who this character will be — but now spoilers here. You will have to read Sabrina Darby's book Entry-Level Mistress and make your own prediction. And for more passionate reads visit our Everything Romance Page.