Q&A With Sabrina Jeffries About Her First Full-Length Christmas Novel
Fri, 12/21/2012 - 12:42pm — admin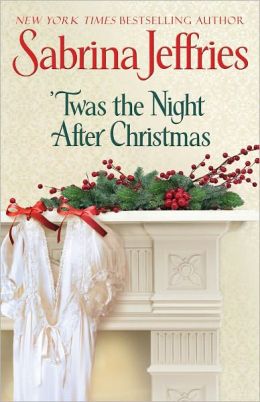 Christmas is right around the corner, and for those who celebrate this means last minute gift buying, decorating, cooking, cleaning, traveling ... need we go on? If you're looking to relax before spending time with family, bestselling historical romance author Sabrina Jeffries has just the book for you! The author recently released her first full-length Christmas novel, 'Twas the Night After Christmas, about a rogue reluctant to go home for the holidays, until his mother's companion tricks him into returning in an attempt to reunite him with his family, only to fall for the man herself! RT's Morgan sat down with the author to get the details about this heartwarming holiday read.
***
Morgan Doremus: You have just released 'Twas the Night After Christmas which is your first full-length Christmas novel. What made you want to write a romance that takes place around the holidays?
Sabrina Jeffries: First of all, any of my friends will tell you that I am a Christmas fanatic. I have seven trees and an entire Christmas village. When you come to my house, it is like a winter wonderland. I'm a little Christmas crazy, so I have always enjoyed these kinds of stories and while I have written holiday novellas, it was time to take on a full novel. And I knew I wanted to do a redemption story.
MD: Oh, you are known for your great rakes. In this novel, you have Pierce, the Earl of Devonmont who very purposefully lives a life of debauchery. What makes him do this?
SJ: When Pierce was a boy, his parents essentially abandoned him. He went off to school thinking he will return home for the holidays, but a distant relative comes to pick him up and tells him that he is spending time with them instead. And that is it. Pierce doesn't go home again. He doesn't see his mother or father again, and he doesn't know the reason for it, he can't possibly know, but it's a good reason. I like the idea that the problem is not something easily cleared up. Pierce's mother is dealing with things and his father is an ass. And so as soon as Pierce's father dies, his mother wants to renew the relationship and he just thinks that they haven't spoken for years, so what the point. So when he feels rejected and abandoned, he does what many of us would do and says to himself "I'll show them."
MD: Ah, the rebellion.  
SJ: Now Pierce is starting to get older and his lifestyle has also gotten old, but he is stuck in the little boy mode. However, he does take responsibility for his mother. He puts her in the dower house and hires a paid companion, Camilla Stuart, to keep her company.
MD: But he doesn't go to visit his mom...
SJ: And Camilla is appalled, appalled I tell you! She sees his mother as a wonderful person, so she tells a little lie. To get Pierce back home, she lets him think his mother is dying.
MD: And this works?
SJ: Camilla is not so sure at first, but just like a dutiful son, Pierce returns. He definitely still loves his mother. After all, he wouldn't be so hurt if he didn't love her.
MD: So he comes home and is pretty mad that it is all a ruse.
SJ: Absolutely. But to get him from leaving, Camilla bargains with him to get him to stay one more night and then another night and another night until he is there for Christmas.
MD: I imagine that the holidays are a sore spot with him. It is when the abandonment started.
SJ: It was actually Easter when Pierce didn't go home for, but his last memory with his family together was over a Christmas tree.
MD: Weren't trees not used in Regency times?
SJ: I made his mother half German, so she follows the tree custom. I really wanted my tree!
MD: Let's talk a little bit about the Regency where you set most of your stories. It is a very specific time in English history. Do you plan to set your future stories in this time period since you already know so much about it?
SJ: This book is actually a bridge book between the last title in my Hellions of Halstead Hall series and my next series the Duke's Men. And because of the Regency time being so short, I am creeping up to the Victorian era.
MD: Well, you know I've got to ask about these Duke's Men books.
SJ: The series will be centered around a detective agency that specializes in finding lost people. The men involved solve a big, dramatic case with the duke (and no, I can't say definitively which duke) and they get a lot of newspaper coverage about it, so people start calling them "The Duke's Men", which, of course, they are not. There are going to be several books in the story with the first one being Maximilian, the Duke of Lyons story which is releasing June 18th.
MD: Oh, Max! I'm so excited to read his story. Any other projects in the works?
SJ: I've got some reissues coming out in March that I wrote under my Deborah Martin name. They take place in the Restoration era which is comparable to the Regency in many ways. Lots of change happening … and great clothes.
MD: The fashion can mean a lot in a story when readers picture the characters in their heads.
Sabrina Jeffries: Absolutely! That's why I don't write about the Georgian period that much. It is because of the terrible wigs ... Wow, I am so shallow!
Morgan Doremus: Not at all! You are writing romance, so you've got to follow the fantasy. And for readers looking for a Christmas fantasy, 'Twas the Night After Christmas is available now!
Looking for more romantic holiday reads? Make sure to visit RT's Everything Romance Page!