Q&A: we Ask Eloisa James About Her First Serialized Novel
Tue, 03/12/2013 - 11:03am — admin
You can add Eloisa James to the list of authors publishing serialized stories, because releasing today is the first part of the author's latest tale, "With This Kiss," a novella about Lady Grace Ryburn, whose written correspondence with Navy soldier Colin Campbell help keep his spirits up during war. With an agonizing wait, issues with self confidence and a rival keeping these two apart, will Grace ever get her man? You can find out during the next three weeks as this Top Pick! rated serial is released. But before you download Part I, check out our interview to learn more about James' hero and heroine and find out what's next for the author. 
***
Lady Grace waits and waits (and waits) for her childhood friend, Colin Campbell, to realize that he loves her. How long would you wait for that perfect someone?
I met my husband after a bad break-up, when friends set me up on a string of blind dates. He was the only one who didn't call the next morning and ask me out again. (He says that was because I refused his kindly offer to escort me into my apartment and give me a back rub.) At any rate, indifference peaked my interest the way assiduousness had not. The difference between Grace and myself is that Colin wouldn't have known what hit him. Alessandro still says mournfully, every once in a while, that he fully planned to return to Italy after a little vacation in America.
Colin, a Navy man, is a bit, let's say, incommunicative. How does Grace know that he is 'the one'?
Her heart knows. She's not the first woman to fall in love with a gorgeous man in a uniform. But she actually falls in love with him earlier than that, due to his kindness. Colin is a real hero: a man who is utterly masculine and yet deeply kind. 
Grace's biggest competition turns out to be her little sister, Lily. Did you deal with sibling rivalry growing up?
Absolutely! My sister had long blonde hair, fabulous legs, and was invited to the senior prom in her sophomore year. I was plump and had frizzy red hair due to the fact I kept perming it (I can't quite remember why now, but that was a bad mistake).
Colin's parents are the H/h from "Seduced by a Pirate" and Grace is the daughter of the H/h from The Ugly Duchess. Was it at all intimidating to write the continuing stories for characters that your readers love so much?
No, because I love them too. It took me a while to figure out what kind of mother Theo would be. I rewrote the scene in which Grace announces her intention to seduce Colin several times. But it was a huge pleasure to return to them. And I absolutely loved James as a papa!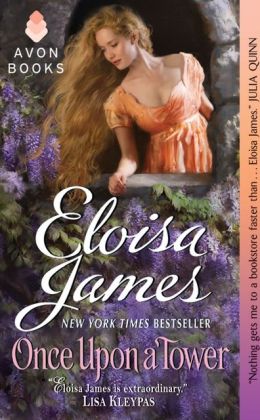 Your books are so engrossing, that readers who pick up a James tale (RT editors included) often have to clear their schedule for hours so they can finish the story in one go. But "With This Kiss" is told in three parts, releasing three consecutive weeks. Are you punishing us for something? Or maybe you just want us to beg for more?
I think that anticipation is one of the greatest pleasures in life! I got the idea partly due to thinking about how Dickens released his novels in serial, but also because it suddenly occurred to me that I don't anticipate anything with as much pleasure as I did as a child (I used to wait for Christmas to come for months). I wanted to create that sort of excitement. The novella was double-length and naturally fell into three segments, so that's what happened. I've started a temporary Facebook book club page that will run from March 12 - April 12, so that anyone who's reading along can come in and chatter about what might happen. Or complain! I'm going to drop in every day and try to drive readers crazy with tantalizing clues. Please join us on Facebook here.
After this serial, your next project is Once Upon A Tower which takes on the Rapunzel fairy tale. We've got to know, just how long is your heroine's hair?
Not long enough to climb.
There is a tower…but it's unclimbable, and haunted by the ghosts of three men who tried to show off to their ladies in the middle ages and didn't survive. 
Of course my hero would never attempt the impossible!
You can download Part 1 of "With This Kiss," available online today! And for more historical romance, visit our Everything Romance Page!