Qhuinn Is Blay's Lover At Last! Who's Next For J.R. Ward? (Spoiler Alert!) - Updated!
Mon, 04/01/2013 - 12:13pm — admin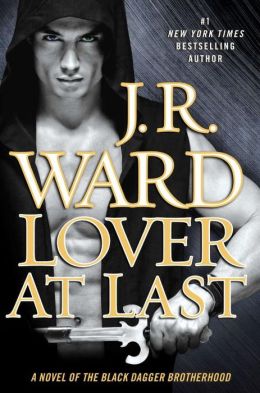 In her interview in the April issue of RT, J.R. Ward revealed that she would divulge the stars of her next Black Dagger Brotherhood book at her signing in Cincinnati tomorrow. We can't wait! She provides some tantalizing hints (and possible red herrings) about her future pairings in Lover at Last, which hit shelves March 26. Now that Qhuay fans have finally had the chance to see their favorite Caldwell couple find love, who will be next? Unless a new one is inducted, Ward is all out of Brothers, so her hero will have to be someone outside the ranks of the BDB. Will it be a member of the Band of Bastards? One of the sexy Shadows? A lesser? (Just kidding!)
Based on clues gathered from Lover at Last, we have three guesses as to who the next Caldwell couple will be. If you haven't read Lover at Last, proceed with caution: Lots of spoilers ahead!
 ***
Xcor and Layla
Our money is on this couple. Not only has Ward been building Xcor and Layla's storyline for a couple of books now, we don't see the resolution of Layla's pregnancy in Lover at Last. Will she keep the baby? Will she give it to Blay and Qhuinn? After all, Qhuinn is the father. Ward hinted at the 2012 RT Convention that, "The best vision I've ever gotten is of Layla turning her newborn child over to Blay. Qhuinn is standing in the door because he doesn't feel welcome, and she reaches out to him." Clearly, we're going to be seeing more of Layla in the next book, no matter what. The question is: Will we be seeing more of Layla with Xcor, the fearsome (and phearsom!) leader of the Band of Bastards? We definitely see a lot of Xcor in Lover at Last, and his angst over his attraction to Layla is as intense as ever. And Ward said in her April interview with RT that she's "in love with Xcor." But it's hard to imagine the Brothers would allow Layla to leave the compound and shack up with their enemy. If these two are united, does it mean the BDB and BOB will be working together in the next book? We have so many questions!
 ***
Assail and Sola
Readers meet a new character in Lover at Last: Thief-for-hire Sola Morte. It's a bit unclear what her connection is to Caldwell's biggest drug dealers, the Benloise brothers, but she has definitely caught the attention of Assail, who is looking to reign as Caldwell's biggest, baddest drug lord vampire. Will another human/vampire couple find love in Ward's next book? The chemistry between these two is off the charts in Lover at Last, and Assail's neutral stance in the war between the BDB and BOB really can't last much longer. We suspect he's going to have to choose a side, and that Sola may have something to do with it. That's why this couple is our second best guess for the next book.
 ***
Trez and Selena
We see a lot of Trez in Lover at Last, and it's apparent he's battling some pretty big demons, including a probable sex addiction. Trez is a Shadow, and his tribe, or s'Hisbe, is after him to make good on his betrothal-since-birth to the queen's daughter, but Trez wants nothing to do with it. We're excited that Ward is expanding the mythology surrounding the Shadows, but we're guessing she's going to flush out this storyline a bit more before Trez gets his star turn. His attraction to the Chosen Selena is immediate and intense in Lover at Last, but he will likely have to resolve some of his issues before he's free to pursue her. And what about his betrothed? Here's hoping that Trez's brother iAm makes a sneak play for the Shadow throne and steals Trez's betrothed.  
BLOG UPDATE 4/1/2013: Ward revealed to a room full of anxious fans that her next book, The King, will circle back to Wrath and Beth, who are trying to have a baby! The hardcover release will be out sometime in 2014.
Who do you think will be J.R. Ward's next couple? Tell us in the comments. For more genre news and coverage, visit our Everything Paranormal & Urban Fantasy Page.