Rachel Caine On the End of Her Morganville Vampires Series & Giveaway!
Wed, 11/06/2013 - 10:45am — admin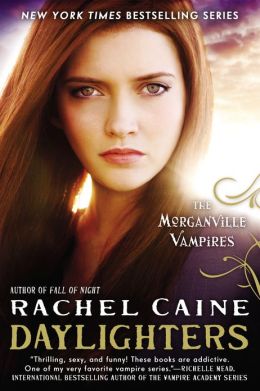 Much to our dismay, it's time to say farewell to another YA series. With Daylighters, Rachel Caine brings her Morganville Vampires series to a close. For seven years and 15 books, readers continually fell in love with Rachel's unique vampire world, her characters and her master storytelling. Today, Rachel shares her thoughts on the series and its end. But that's not all! Stay tuned at the end of the post to learn how to enter to win a complete set of the Morganville Vampires series!
I've said "I'll never ... " a lot in my life, and you know what? I've almost always been wrong. When I said "I'll never eat broccoli!" to my mother at 7, she smiled and shook her head. She was right. And when I was enthusiastically 18, I said, "I'll never get married!" ... yeah. I've been happily married for more than 20 years now. 
But mostly, every time I've said "I'll never write about ... " I've been even more completely wrong. When I started out writing horror novels (yes! I did, I really did!) I was sure that I'd found my voice and what I wanted to write forever and always. People suggested I write romance or romantic suspense, and I said, "I'll never write that!" It wasn't because I had anything at all against the genres ... just that I was convinced I had nothing to say on those themes. I thought I would be really bad at it.
And yet, I did write it, and enjoy it, and other people seemed to like it, too. It was around that time that I uttered another "I'll never …" "I'll never write young adult books." I thought I was far too removed from my own young adult past to have anything relevant to say. 
Yeah. I'm still wincing over that one, and how I almost turned down the chance to write the Morganville Vampires series.
Let me explain.
I was writing Urban Fantasy, and doing pretty well with it; the chance came up to propose for the new YA line at Penguin/NAL, and everyone thought I should go for it.
Not me. I really, really didn't think I could. I struggled with the idea. It wasn't until I spoke to a good friend who was widely read in YA (I was reading YA but hadn't been at it as long as she had) and discussed it with her that I got the well-deserved bonk on the head. "Of course you can do it," she informed me. "Because you can write anything, if you're interested enough in it."
"Well," I said, "I like vampire stories. But I don't think I've got any new ideas."
"Bet you do," she said.
"I don't!"
"Tell me the first thing that pops into your head. Go."
"The streetlights here are really far apart," I blurted out. And then, in the next second or two, I said, "You know, if vampires built a town for themselves, they'd put the streetlights really far apart. They don't need them. And it makes their victims stay in the dark longer."
There was a very long silence on the other end of the phone, and then my friend said, "Yeah. Go write that."
It was 15 books ago. Seven years. She was right, I was wrong, and I have been grateful to her, and to my amazing editors and my absolutely stunning readers, ever since.
And Morganville has been nothing but a joy to me. It has allowed me to hear so many fantastic stories from readers about how the adventures of my characters helped them, inspired them, made them want to read or write or do better. It's been an honor and a true privilege.
I promise to come back to Morganville to visit, if not to live, and I hope my wonderful readers will occasionally drop in as well.
There are two words I'm deleting as of now from my writing vocabulary: I'll never.
Because eventually, I'm pretty sure I will at least try.
After all … that broccoli thing worked out pretty well, eh?
- Rachel Caine
Well said, Rachel! While we're sad to see the series end, we're excited to give one lucky reader the chance to experience the series in its entirety, whether it's their first time reading or their fifth. To enter, leave a comment telling us why you love the Morganville Vampires series, or why you'd like to read it! This giveaway is open to U.S. residents only. You can also email your entry here with the subject "Rachel Caine Giveaway" and your mailing address. We'll select the winner next Wednesday! Good luck!
UPDATE: The winner is Kate B.