Read An Excerpt From Sophia Nash's The Duke Diaries - WIth Giveaway!
Thu, 03/07/2013 - 2:32pm — admin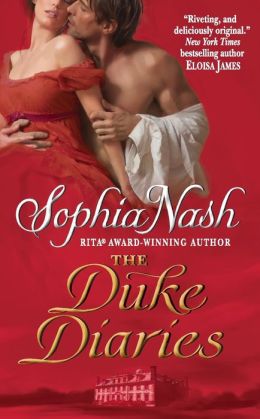 Regency romance meets The Hangover in Sophia Nash's latest Royal Entourage tale, The Duke Diaries. RT senior reviewer Kathe Robin calls the book " ... a delightful romance with engaging characters whose witty dialogue is just what readers expect from [Nash's] rapier pen." About a young woman who becomes involved with childhood crush in the most unusual of ways, here's the official back cover blurb for the story:
After a royal bachelor party of the century, Lady Verity Fitzroy wakes up to find her brother's archenemy, Rory Lennox, the Duke of Abshire, in her bed. While Rory has always fascinated her, nothing can convince her to marry this rake even though her reputation is in peril. Indeed, there are far graver worries that plague her. If she is unmasked as the author of the infamous Duke Diaries, no one can save her ... not even the man of her dreams.
Though he has known Verity since she was still in the schoolroom, Rory never imagined her to be such a spitfire! Which only makes the challenge of winning her hand more intriguing. Never mind that he has no interest in a wife. But when this secret war hero discovers the root of Verity's horrendous troubles, he realizes he must face down his greatest fears not only to save her ... but to win her hand and her heart.
What a way to unite with the man you've been infatuated with for years, right? To celebrate the release of The Duke Diaries, we're partnering with Avon to offer readers an exclusive excerpt from the story, plus a chance to win a copy of the book and this embossed red Italian leather journal: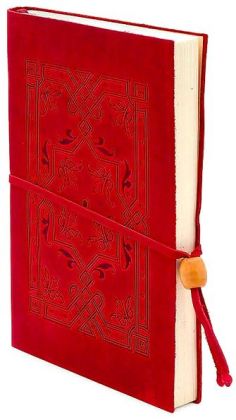 But first thing's first. You can download an excerpt of The Duke Diaries by clicking here. And after you've boned up on the story, you can join us on Twitter for a chance to win a copy of the book and your own leather journal! Three winners will receive the first two books in the Royal Entourage series Between the Duke and the Deep Blue Sea and The Art of Duke Hunting, plus the leather journal above.
You can enter to win by participating in our Duke Diaries Twitter chat today from 3-4pm EST! Be sure to follow and use the hashtag #dukediaries to join in, where we'll be talking about the book and asking the author questions. Winners will be selected from the chat and announced here and on Twitter at 4pm EST.
BLOG UPDATE: The winners are Twitter users @Balletbookworm @Laforesta1 & @jcalvert719. Thank you to everyone who chatted with us!
You can pick up a copy of The Duke Diaries, available in stores and online now! For more romance visit our Everything Romance Page.