Read The First Chapter Of Fiona Paul's Belladonna
Mon, 07/08/2013 - 11:50am — admin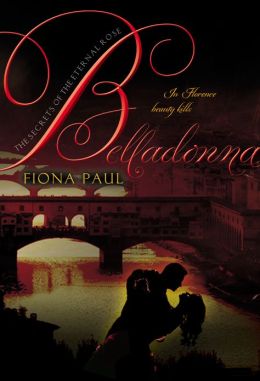 If you've yet to pick up any of the books in Fiona Paul's Secrets of the Eternal Rose trilogy, you're missing a whirlwind adventure perfect for anyone looking for a Renaissance Venice-set romance. Teen heroine Cassandra Caravello's life as one of Venice's elite is picture-perfect, until she discovers the body of a woman murdered in her own backyard. Swept up in a world of intrigue, secrets and danger, Cass can't help but be drawn to mysterious artist. In Belladonna, Cass' adventures continue, but she's faced with a big decision: Stay with her fiancé Luca, or return to Flaco, the man who broke her heart. Today we ask the author about her series, the gorgeous backdrop of Venice and offer readers the complete first chapter for download at the end of this post!
***
Belladonna is the second novel in your Secrets of the Eternal Rose trilogy. What do readers new to the series need to know about Venom before they start Belladonna?
I worked hard to make Belladonna a standalone novel as well as the middle book in the trilogy, and I've gotten feedback from readers who haven't read Venom that they had no problems enjoying the book on its own. It might help new readers to know that Cassandra is engaged to Luca da Peraga, who has been studying abroad, but has strong feelings for Falco da Padova, a local artist she met while investigating the murder of a courtesan whose body she stumbled across in a nearby cemetery. At the end of Venom, both men make a play for Cass's heart and Cass also finds out that the murders in Venom are loosely linked to the Order of the Eternal Rose, a secret society of scientists doing experimentation on human remains.
Your heroine, Cass, lives in Renaissance Italy and the setting plays a huge part in her story. Have you visited the cities you write about? If so, what are some of your experiences that you incorporated into your books? Sights? Sounds? Food?
I have visited Venice but not Florence. Tragically for Cass, there was no gelato or tiramisu in 1600, so mostly what I incorporated of my own travel experiences was the mazelike feeling of the Venetian alleyways, the various smells — canal water, raw meat, baking bread, etc. — and the grandeur of the Venetian art and architecture. Also, Venice really does feel differently in the day versus the night. During the waking hours, the entire place is bustling with activity, but after the sun sets certain parts of the city feel completely scary and deserted.
Cass is trapped in a love triangle. On one side is the passionate artist Falco. The other her steadfast and loving fiance Luca. Who does Cass spend the most time with in Belladonna?
Cass honestly spends a lot of time on her own in Belladonna, but a bit more time with Falco than with Luca. However, Luca definitely has a bigger role than he had in Venom and will have an even bigger role in Starling, the third book in the trilogy.
In order to solve a mystery, Cass travels to Florence to investigate rumors of vampirism. What made you add a touch of paranormal to this historical novel? 
That is something that presented itself during the research done for Venom. I knew that in 1600 many Venetians and Floentines believed in vampires, but one of the lovely people who helped with research showed me an interesting article about a suspected vampire found buried with a brick in her mouth. That element just seemed to fit nicely with the rest of the storyline. This isn't the exact article (since Belladonna was completely written before then), but it's referencing the same archeological find.
Do you have a favorite scene from Belladonna?
My favorite scene comes near the end of the book when Cass and Siena join forces to attempt something exceptionally brave. I struggled with parts of this trilogy because I lean toward writing female characters as ferocious warrior-types which doesn't really work for Cass considering her background and societal status. But she steps it up in Belladonna in a big way, and I'm very proud of her.
***
Download the complete first chapter >>
You can pick up a copy of Belladonna, available digitally and in print July 16. And for more teen reads, visit our Everything Young Adult Page.